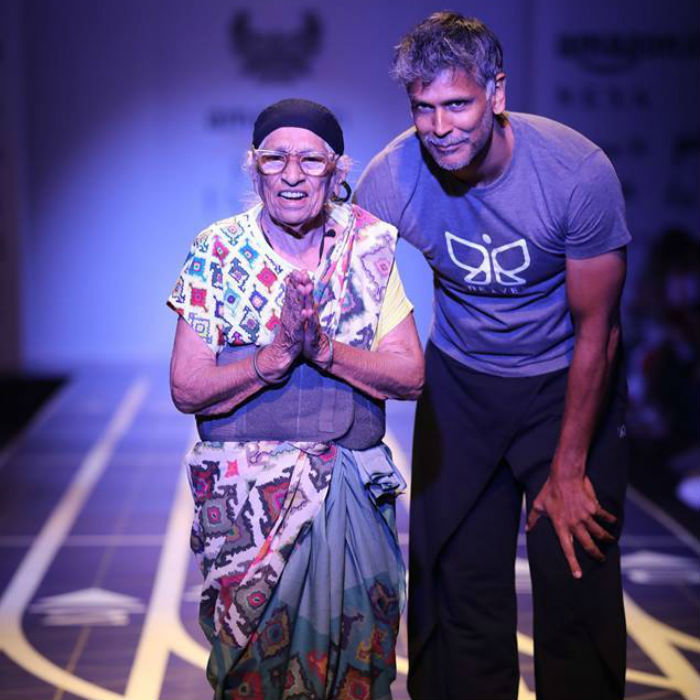 How does a supermodel so hot-- walking the ramp is not an attraction? It's when a 101 year old woman takes all the attention! We are not kidding you, because this woman from Chandigarh stole the show with her enthusiasm to walk and the confidence to know what she is supposed to do on the ramp that magnets eyes of so many!
https://www.facebook.com/ptcnewschandigarh/videos/500417216993578/
Can a 20 something even think of achieving something similar? When you think that in oldage, you can do nothing, this is what Mann did.
While Supermodel-actor Milind Soman (51) attended the Spring-Summer 2018 edition of the Amazon India Fashion Week (AIFW) on Wednesday evening in Delhi. He still wasn't the attraction as the two women walking besides him - 101-year-old Mann Kaur from Chandigarh and Coimbatore's V. Nanammal, a 98-year-old took the audience by aww!
Mann Kaur won a 100m race at the World Masters Games held in Auckland, New Zealand, in May this year, and Coimbatore's V. Nanammal, a 98-year-old yoga teacher.
It was a fashion show which defied age, fitness and expectations. When you expect models with tan, tall legs and sharp features, this fashion week gave other goals by featuring old women!
The enthusiasm of the two senior citizens on the ramp was so infectious that the audience kept rooting for them long after they'd finished their routine. Mann Kaur even sprinted across the ramp with Soman, who had to stop her just in time before she ran over the edge. After running back, she refused to go backstage and continued dancing on the side.
When enthusiasm is sky high and smile your only confidence, incidents like these take place. Such is the face of self love and appreciation. Kudos to you lady!
-PTC News