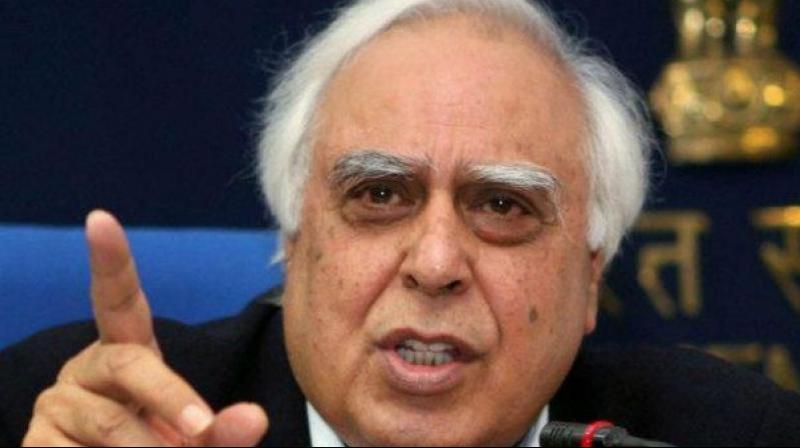 New Delhi: Sixteen opposition parties on Tuesday urged the Election Commission to revert to the paper ballot system in future elections saying tampering allegations have created "trust deficit" on the reliability of the voting machines.
The parties also slammed the Centre for failing to provide funds to the Commission to put in place sufficient number of voter verified paper audit trail (VVPAT) machines for the 2019 Lok Sabha polls.
The VVPAT dispenses a slip with the symbol of the party the elector has voted for using EVM. This proves that the EVM has faithfully recorded the vote.
"We are not blaming the EC. EC feels EVMs are tamper-proof. Even Pentagon is not fool-proof. We have urged the Commission to revert to paper ballot system till the reliability of EVMs is proven beyond doubt by all stakeholders," senior Congress leader Kapil Sibal told.
He and T Siva (DMK) said the Commission would soon convene an all-party meet to further discuss the issue."The trust deficit amongst political parties in the
electronic devices is too deep seated and pervasive. It has shattered the faith of the people in the fairness of the electoral process...the trust factor is getting eroded and it is incumbent upon the Election Commission to allay those fears
and apprehensions," the memorandum submitted to the poll panel read.
The memorandum said the lack of response from the government and its refusal to provide the funds for VVPATs "raises serious doubts about the intent of the Government and its commitment to the conduct of free and fair elections."
The parties said that there is a consensus among the political parties on the mode of conduct of elections, "which for the present, is against the EVMs and in favour of reverting to the original practice of voting by paper ballot".
They reminded the Commission that the issue of "widespread allegations" about the tampering of EVM machines in the recently-held assembly elections have been raised by almost all opposition parties in Parliament.
The delegation told the three Commissioners that the recent allegations of tampering of EVMs in Ater of Bhind district in Madhya Pradesh "to suit BJP further lend credence to this apprehension of the opposition parties".
They said similar allegations of EVM tampering have been reported in the Maharashtra local body elections -- BMC elections (Mumbai), Municipal Corporations of Pune, Nashik and Amravati.
Leaders of various opposition parties had earlier today met in Parliament and decided to jointly meet the Election Commission, demanding that their concerns on the issue be addressed.
Representatives of parties including Congress, BSP, DMK, Trinamool Congress and the Left were present at Nirvachan Sadan, the EC headquarters.
The opposition leaders had earlier decided to put forth their demand before the EC for simultaneous use of VVPAT (paper trail of voting) and ballot paper in 50 per cent constituencies each for assembly elections in Gujarat and Himachal Pradesh slated later this year.
— PTI