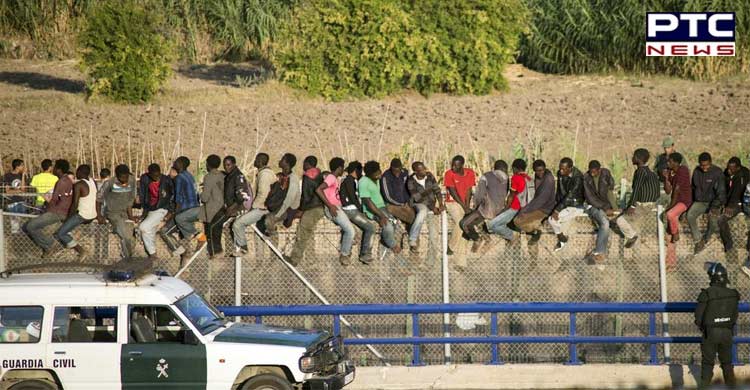 Rabat (Morocco), June 25: As many as 18 people died in a stampede as more than 2,000 sub-Saharan migrants tried to breach the border between Morocco and Melilla, a Spanish enclave city in Africa, on Friday.

According to Moroccan official news agency MAP, earlier only five migrants were said to be killed and 76 others injured. Around 140 Moroccan security officers were wounded, including five in critical condition.
A total of 13 of the injured migrants later died in hospital after which the death toll climbed to 18, said the report Friday night, citing local authorities of the province of Nador.
Also Read | Jalalabad IED blast case: NIA conducts searches at multiple locations in Punjab
According to the report, as the migrants tried to climb or cut through a fence separating the Spanish city from Moroccan territory and Moroccan security officials "intervened."
The Spanish authorities at the enclave informed that most of the migrants were forced back except for 130 of them have managed to reach the enclave.
Those who managed to cross went to a nearby migrant centre where officials assessed their situation.
Mass migration efforts to reach Melilla and Ceuta, the other Spanish enclave on the North African coast, as a stepping stone to continental Europe occasionally occur as a result of people fleeing poverty and violence.
To keep migrants away from the border, Spain often depends on Morocco.
Also Read | Child rights body issues guidelines for entertainment industry
-PTC News