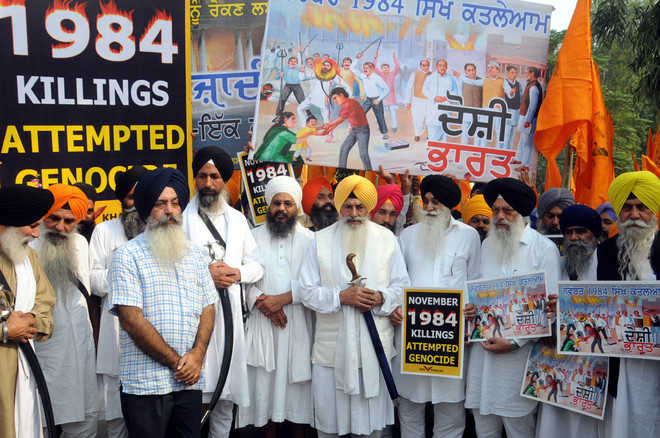 A signature campaign was launched by the All-India Sikh Students' Federation (AISSF) at the Golden Temple plaza today, seeking justice for the 1984 anti-Sikh riot victims along with some relatives of the victims.
The signature petition will be submitted to the US President. The aim is to collect 1 lakh signatures till November 26.
"Even after 33 years, justice eludes us as the culprits escaped scot-free," said 76-year-old Jagdish Kaur, whose five family members were burnt alive by a mob in Delhi.
Gurdeep Singh Gollu said, "I will keep fighting. I am a witness to the riots. My husband Kehar Singh, then 45, 19-year-old son Gurpreet Singh, cousin Kuldeep Singh (21) brothers Narinder Pal Singh (35) and Raghwinder Pal Singh (25) were burnt alive before my eyes by a mob that barged into our house located in the cantonment area, Raj Nagar, in Delhi," she said.
Karnail Singh Peer Mohammad, AISSF president, said that till now, 13,500 signatures had been gathered. He requested people of all religions to come forward and sign the petition.
"I hope that our efforts will bear fruit as it was done when the Canadian parliament recognised 1984 killings as a Sikh genocide. We will be organising a camp on November 4 at Sultanpur Lodhi," he said.