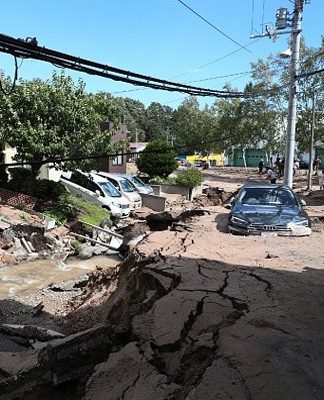 7 killed, 200 injured as strong earthquake jolts Japan
A strong earthquake measuring 6.7 on the Richter scale rocked Japan's Hokkaido prefecture on Thursday. It killed 7 people and injured 200 people.
The earthquake led to the landslides that engulfed houses. According to the local authorities 40 people remained missing as search and rescue operations ramped up their efforts to find the missing before nightfall.
The quake, which came on the heels of a deadly typhoon lashing the west of Japan over the past few days, cut power to around three million homes after a thermal power plant was damaged.
More than 1,300 public schools decided to close and students were told to stay at home amid the dangerous aftershocks, according to local reports.
The Japanese government set up a liaison unit at the crisis management centre of the office of Prime Minister Shinzo Abe to gather more information on the devastating quake.
It said some 25,000 personnel from the Japanese Self-Defence Forces were to be dispatched to the quake-stricken areas for rescue and relief operations at the request of the governor of Hokkaido.
Recently, the most powerful typhoon, Typhoon Jebi to hit Japan in 25 years, due to which over 600 domestic flights have been cancelled in Japan. All Nippon Airways Co. and Japan Airlines Co. have cancelled 289 and 180 flights.
The Typhoon has hit the transportation services the worst. It has led to the cancellation of many flights and trains and other commercial facilities also.
Also read: Earthquake of magnitude 4.0 hits Italian island; one dead, 25 injured
The Japan metrological agency warns of torrential rain and powerful gusts of wind across both eastern and western Japan and has urged the public to be vigilant for high waves, potential floods and landslides.
According to the agency then typhoon is likely to pass over Sea of Japan and move on a northward trajectory.
-PTC NEWS