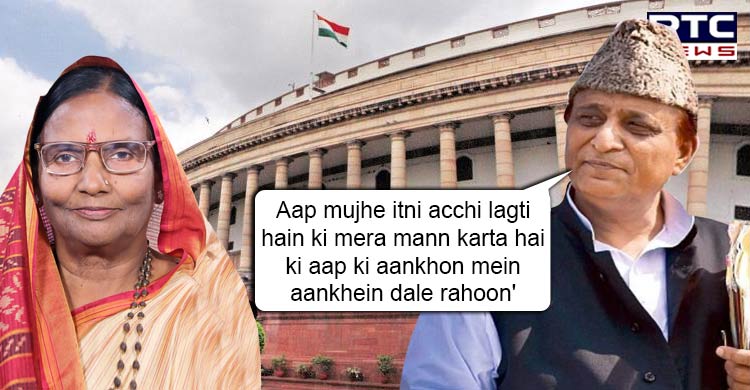 Uproar in Lok Sabha over Samajwadi Party MP Azam Khan comments on Bhartiya Janta Party (BJP) MP Rama Devi (in the chair), on Thursday. He said 'Aap mujhe itni acchi lagti hain ki mera mann karta hai ki aap ki aankhon mein aankhein dale rahoon'. Meanwhile, the other ministers have asked Azad Khan to apologize.
https://twitter.com/ANI/status/1154328813226139648
Likewise, BJP MP Rama Devi (in the chair) said, "This is not the way to speak, please expunge these remarks", to which Azam Khan also replied and said, "You are very respected, you are like my sister." The remark stirred the controversy in the lower house as ministers asked Azam Khan to apologize.
https://twitter.com/ANI/status/1154329686287310848
Meanwhile, Samajwadi Party MP Akhilesh Yadav also stood up and spoke up on the situation. He said, "I don't think Azam Khan ji meant any disrespect to the chair (Rama Devi). These (BJP MPs) people are so rude, who are they to raise fingers?" Akhilesh Yadav slammed BJP MPs for asking Azam Khan to give apology.
https://twitter.com/ANI/status/1154330654873702400
Afterward, Akhilesh Yadav walked out of the Lok Sabha. Furthermore, Lok Sabha Speaker Om Birla spoke up and said, "It is very easy for all of you to demand 'expunge this expunge that', but why should the need to expunge arise at all? Once a remark is given, it is already in public domain. Therefore, we all should speak keeping the dignity of the Parliament in mind."
https://twitter.com/ANI/status/1154333580606263296
SP MP Azam Khan had been in headlines before the Lok Sabha Elections 2019 also, due to his remark on the BJP candidate Jaya Prada. Khan raked up the controversy with the Underwear mark against Jaya Prada. He said, "Rampur waalo, Uttar Pradesh waalo, Hindustan waalo, usski asliyat samajhne mein aapko 17 baras lag gaye. Main 17 dinon mein pehchaan gaya ki inke neeche kaa jo underwear hai, woh khaki rang kaa hai).
-PTC News