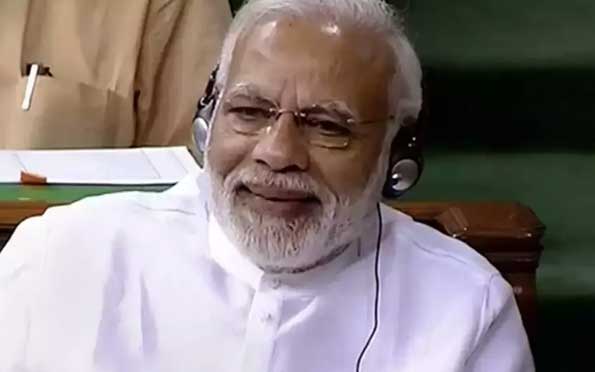 Prime Minister Narendra Modi friday hit back at Congress President Rahul Gandhi for accusations against the government on national security issues and asked him to abstain from ''childish statements" such as describing surgical strikes as 'jumla" (rhetoric slogan).
During the no-confidence motion against the Modi government in Lok Sabha, Gandhi had earlier in the day accused the government of "lying" to the nation on the issue of sharing details of the Rafale jet deal and had called the prime minister a "bhagidaar" (collaborator) in cases of alleged corruption, not a "chowkidaar" (guard).
"We must abstain from making childish statements on sensitive issues," Modi said during his reply to the motion, moved by the BJP's former ally TDP. Modi also said the surgical strike against Pakistan-based terror camps must not be called a 'jumla' as it would amount to insulting the security forces.
Modi said he cannot imagine the truth can be crushed like this and the country can be misled in such a manner.
Gandhi had said the French president had clearly conveyed to him during a meeting that there was no problem in sharing details relating to the multi-billion dollar Rafale deal.
Alleging corruption in the deal, the Congress has been demanding details, including cost of equipment and weapons, but the government has refused to share them citing a secrecy pact with France.
Hours after Gandhi's comments, a Spokesperson in the French Foreign Ministry said France had signed a security pact with India in 2008 which legally binds the two countries to protect the classified information which could impact security and operational capabilities of the defence equipment.
Speaking about the Doklam stand-off with China, Modi hit out at Gandhi saying when the entire country was united, the Congress leader was meeting the Chinese envoy.
Modi also said Congress has no confidence in itself and it also does not trust any of the country's institutions like RBI and Election Commission.
"I pray to God to give you (Gandhi) strength to bring a no-confidence motion in 2024 also. My best wishes are with you," he said. PTI