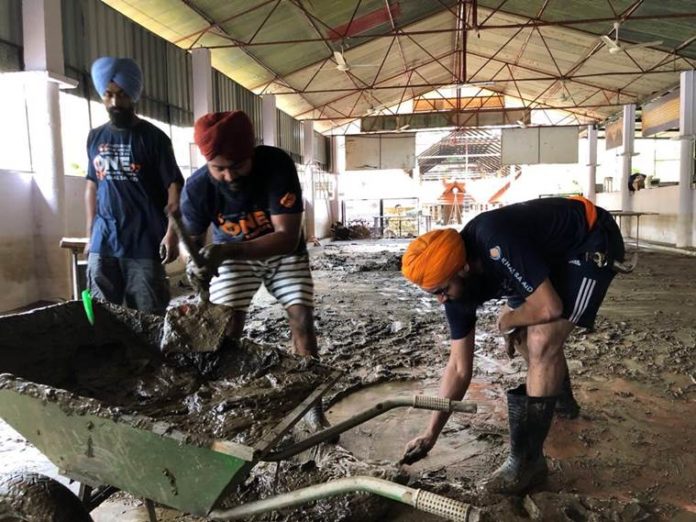 After church, Sikh volunteers from Khalsa Aid take up temple cleaning
After cleaning a church in flood-hit Kerala's Alappuzha district, Sikh volunteers from Khalsa Aid are now working to clean a temple.
The volunteers were approached by a man working at Panayannurkavu Devi Temple, also called Panayannur Kavilamma temple, situated at Thalavady village in Kuttanadu.
Gurpreet Singh from Patiala of Punjab, a Khalsa Aid volunteer, told reports, "It was Saturday when Onam festivities were underway. We were cleaning a church when a temple worker, Mohandas Prasad, came to us. He had a photograph in hand. Our translator told us that he needed help in cleaning a temple. We told him we will help soon after we are done cleaning the church. The man broke down and told us that people were unable to access the temple on Onam. We told him we will help them as soon as possible. For us, the human race is one and if we can clean a church, we can clean a temple too."
Volunteers said it will take at least two days to clean the temple.
"The entire courtyard of the temple was covered in thick layers of silt and mud. We started on Sunday and have almost cleared the silt. Bringing high-pressure water pumps is a problem here. The entire hawan area is also in a complete mess," Gurpreet said.
Responding to trolls on social media who criticised them for "cleaning a church, and not a temple", Amarpreet Singh, Asia Pacific managing director, Khalsa Aid, said, "We work with the motto of 'Recognise human race as one'. We do not select projects on the basis of caste, class, religion or gender. So when people comment that we are partial towards Muslims or Sikhs, we don't let it affect us. Rather it makes our resolve stronger to not discriminate."
-PTC News