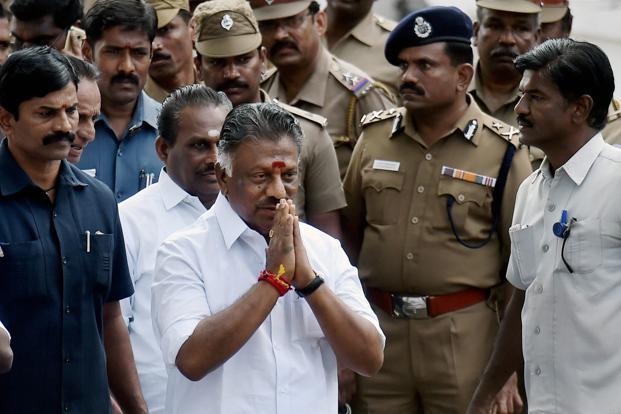 Chennai: The rebel AIADMK faction led by O Panneerselvam has announced on Friday their panel to hold party merger talks with Chief Minister E Palanisamy.
The team would be headed by former AIADMK minister K P Munuswamy and would include senior leaders Mafoi Pandiarajan and V Maitreyan.
The merger talks are expected to happen very soon.
Earlier in the day, Palanisamy had formed a 7-member committee to hold talks with rebel AIADMK faction leader O Panneerselvam.
The committee will be headed by Rajya Sabha MP R Vaithiyalingam, and includes ministers C Sreenivasan, KA Sengottaiyan and D Jayakumar among others, said ANI.
On the other hand, former minister and OPS camp MLA had said, "We got formal invite from them (Sasikala camp) for appointing committee, will nominate committee by end of day".
Earlier on Friday, the AIADMK Amma faction went into a huddle under Palanisamy, a day after the O Panneerselvam camp set formal removal of party General Secretary VK Sasikala and her deputy TTV Dhinakaran as conditions for merger talks.
Palanisamy was joined by his cabinet colleagues D Jayakumar, C Shanmugham, SP Velumani and R Vaithilingam among others at party headquarters for the meeting.
Hardening its stance for merger talks, the Panneerselvam camp had on Thursday demanded that the faction led by Palanisamy formally expel Sasikala and Dhinakaran besides about 30 other members of their family from the party.
Following the cabinet's revolt against him early this week, Dhinakaran had said he was "stepping aside" in the interest of the party.
A top leader in the Panneerselvam camp, KP Munusamy, had on Thursday said the first demand was getting the resignation of Sasikala and Dinakaran and later their formal expulsion along with 30 other members of their family.
The Panneerselvam camp has also sought a CBI probe into the circumstances leading to former Chief Minister Jayalalithaa's death on December 5 last year.
The OPS camp further alleged that Palanisamy is devising new ways to prevent the merger from taking place.
"Current Chief Minister Palanisamy, who was appointed at the mercy of Sasikala, is not acting as the AIADMK Chief Minister rather he is acting as the Chief Minister of Sasikala and her family," he said.
In response, the E Palanisamy-led faction on Thursday said that the former should first take its complaint regarding symbol issue back.
"Their camp went to EC first on the symbol issue, let them take back their complaint first," Vaithilingam told the media in Chennai.
Regarding the second demand of probing late Chief Minister J Jayalalithaa's death, Vaithilingam said the demand for the same is under the court's consideration, adding the government will follow the order.
—PTI/ANI