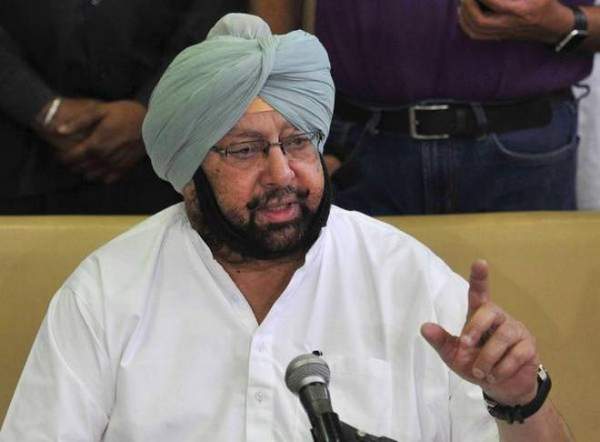 Shiromani Akali Dal today accused the Punjab Chief Minister Captain Amarinder Singh of indulging in double-speak and duplicity of conduct on the issue of Khalistan and the so-called Referendum 20-20, and asked the CM to come clean on his stand on the handful of fringe elements who promote separatist ideologies in Punjab."
It is strange that on the one hand the Chief Minister dines and parties with elements like Baljit Singh Daduwal and Dhian Singh Mand and several others who openly support Khalistan and even visits Khalistani strongholds overseas, such as the  Gurdwara at Dixie, while on the other he pretends to don nationalist colours. Will the real Amarinder please stand up and be counted one way or the other?" asked the SAD Senior Vice President Dr Daljit Singh Cheema.
Dr Cheema also reiterated his party's stand in favour of a genuinely federal structure in the country with more powers for the states. The party also advocated the restoration of pride and honour of the brave and patriotic Sikh community and the removal of their totally genuine and legitimate grievances. We are the sword-arm of the country and all
we want is our honour to be restored and our rights to be fully protected. The SAD has always waged peaceful democratic struggles for the rights of the Punjabis and the Sikhs. Khalistan is no issue for the Sikhs " he said.
"Amarinder's hypocritical and duplicitous stand on the issue of a ban on the so-called "Sikhs For Justice" and his complicity with those who openly promote the Khalistan ideology are classic examples of how Captain Singh has all along been running with the hare and hunting with the hound. He speaks one language for Delhi and another for those
whom he uses to weaken the Shiromani Akali Dal and to keep the Sikhs divided. This is an old Congress ploy of mouthing nationalist slogans while striking secret deals with anti-SAD extremist fringe in order to grab the Sikh religious institutions for the anti-Sikh Congress
party," asked Dr Cheema in a statement here.
Dr Cheema was reacting to a statement by the CM welcoming the ban imposed by the Government of India on the fringe organization Sikhs for Justice (SFJ) for trying to promote the so-called Referendum 2020.Dr Cheema said that the separatist sentiment and militancy in Punjab was the direct outcome of the then Congress governments greed for capturing Sikh shrines and institutions like the SGPC  by fanning extremist slogans to divide the Sikhs and weaken the SAD. Amarinder Singh was an important component of those conspiracies. He falls in the category of the Congress leaders who wear pro-Sikh masks to mislead the gullible masses, whereas they remain integral parts of the conspiracies to weaken the Panth. These leaders suddenly adopt nationalist postures to remain in the good books of their true masters."