Coronavirus situation in India: While India is dealing with the second wave of coronavirus, China, Pakistan, France, and Australia extended support to India which has been recording more than 3 lakh daily new cases.

Pakistan PM Imran Khan, on coronavirus situation in India, took to Twitter and wrote: "I want to express our solidarity with people of India as they battle a dangerous wave of COVID-19. Our prayers for a speedy recovery go to all those suffering from the pandemic in our neighborhood and world. We must fight this global challenge confronting humanity together."
Also Read | Zydus gets DCGI approval for emergency use of Virafin in treating moderate COVID-19 cases
Likewise, Australian PM Scott Morrison said that "Australia stands with our friends in India as it manages a difficult second #COVID19 wave. We know how strong and resilient the Indian nation is. PM Narendra Modi and I will keep working in partnership on this global challenge."
Also Read | Coronavirus: India continues to record world's highest single-day Covid spike
French President Emmanuel Macron said, "I want to send a message of solidarity to the Indian people, facing a resurgence of COVID-19 cases. France is with you in this struggle, which spares no one. We stand ready to provide our support."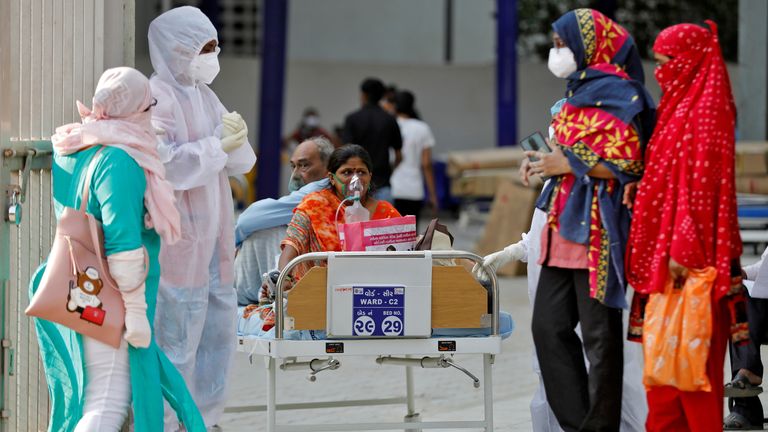 Meanwhile, the Chinese foreign ministry spokesperson Wang Wenbin spoke up about the second wave of coronavirus in India and said that Beijing was ready to help.
Wang said that the coronavirus epidemic was the common enemy of all mankind. The international community needs to unite as one to fight against the epidemic, he said.
He added that the Chinese side noted that the coronavirus situation in India was severe and that there was a temporary shortage of epidemic prevention and medical supplies.
Click here to follow PTC News on Twitter
-PTC News