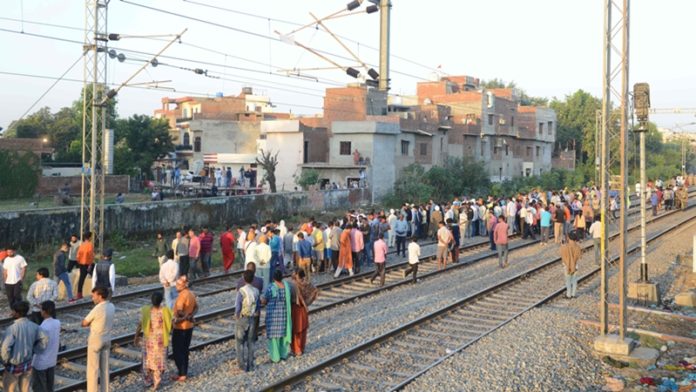 Amritsar Tragedy: Driver Of Train Says He 'Got All-Clear To Move On'
The driver of a train that crushed at least 60 people to death while they were watching the burning of a Ravana effigy from a railway track was questioned by the Punjab and Railway Police on Saturday.
Sources said that the driver claimed that he was given green signal and all clear and had no idea that hundreds of people were standing on the tracks when the train crossed the area.
#WATCH Amritsar accident: Police Commissioner SS Srivastava says, "Exact death toll is not known but it is definitely more than 50-60. We are still evacuating people." pic.twitter.com/5l9Gjw90VB

— ANI (@ANI) October 19, 2018

Meanwhile, the Railway Board chairman Ashwani Lohani had informed the reporters that Jalandhar-Amritsar Diesel Multiple Unit (DMU) passenger train was running at its assigned speed. Its loco-pilot, however, applied brakes to slow it down.
"Our initial report suggest that the loco-pilot applied the brakes and the speed came down from 90 kmph to around 60-65 kmph. We are still looking at the seepdometer charts," Lohani said.
Punjab Chief Minister Amarinder Singh who arrived at the accident spot 16 hours after the tragedy, has announced Rs 5 lakh compensation each to the kin of the deceased immediately after the incident.
#AmritsarTrainAccident: Punjab CM orders immediate release of Rs. 3 Cr to DC Amritsar for payment of ex-gratia to the families of the deceased. pic.twitter.com/PKU8HCgQ8p

— ANI (@ANI) October 20, 2018

After meeting the families of the victims on Saturday, Punjab Chief Minister Captain Amarinder Singh ordered an immediate release of Rs three crore to the Amritsar district collectorate for payment of compensation to the family of the deceased.