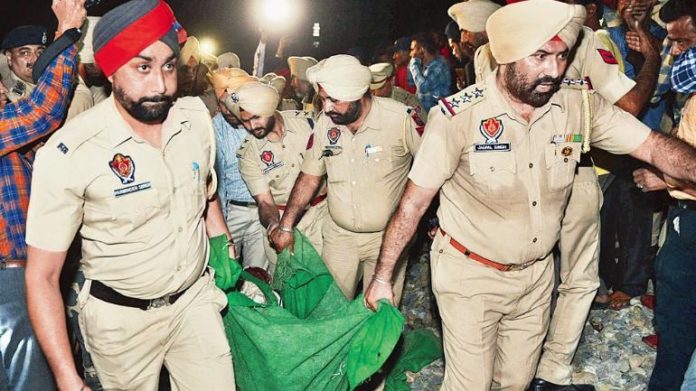 Amritsar Tragedy: Railways says not responsible, train driver detained
The driver of the train that mowed down 60 people and injured nearly 72 in Amritsar on Friday has told police officials that he had received a green signal and had no idea that hundreds of people were standing on the track.
The Punjab Police and Railway Police have detained him for questioning at the Ludhiana Railway Station.
Indian Railway Board Chairman Ashwani Lohani reacted on Amritsar train mishap. He said that railway department is not responsible for the dreadful incident. He said, it would be wrong to say that the Railways is responsible for the tragic incident, adding that people need to be more alert.
Doctors at Civil Hospital and Guru Nanak Hospital said 32 bodies have been identified. It will take time to identify more bodies as they have been cut into pieces by the metal wheels of the fast-moving train, they said.
Chief Minister Amarinder Singh is expected to arrive in an hour. Mr Singh is expected to visit the civil hospital in Amritsar, where the injured are undergoing treatment.
 At least 58 people were killed and 72 injured after a train ran into crowds at Joda Phatak crossing in Amritsar where a large number of people had gathered to watch Ravan effigy burning on Friday evening. The train was coming from Jalandhar to Amritsar when the accident occurred at Joda Phatak where at least 300 people were watching 'Ravana dahan' at a ground near the tracks
The injured have been admitted to the Civil Hospital in Amritsar. President Ram Nath Kovind expressed shock over the tragic accident. Prime Minister Narendra Modi said the tragedy was "heart-wrenching".
-PTC News