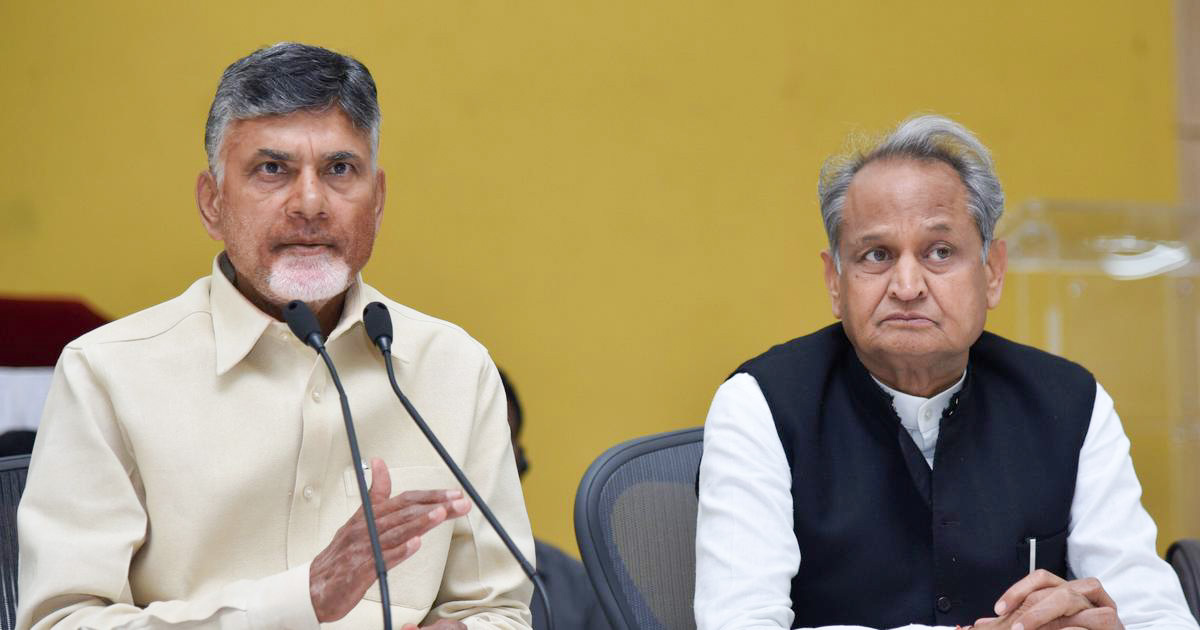 Andhra Pradesh Chief Minister and Telugu Desam Party (TDP) chief N Chandrababu Naidu met many opposition party leaders and discussed a range of issues on Friday.
The issues discussed including the recent campaign banning in West Bengal, reports of Electronic Voting Machines (EVM) malfunctioning across the country and the Election Commission of India's (ECI) behaviour in this Lok Sabha election.
Chandrababu Naidu also visited the ECI in the past fortnight to examine the post-poll situation.
Naidu embarked on his agenda by first meeting senior Congress leader Abhishek Manu Singhvi.
The two discussed the campaigning in West Bengal which was called off due to recent incidents of violence in the state and also took notice of ECI's behaviour.
Chandrababu Naidu travelled extensively to Delhi in the past few days, and met many Opposition leaders, highlighting the fact that he is a man with a mission.
Naidu also met general secretary Communist Party of India (Marxist) CPIM) Sitaram Yechury at his office.
The discussion topics included the importance of unity among Opposition parties and the alleged bias of the ECI towards Bharatiya Janata Party (BJP).
With BJP leaders confident of winning 300 seats in the 2019 Lok Sabha elections, Chandrababu Naidu has taken it upon himself to invigorate the Opposition and to prepare in case numbers don't turn up in the BJP's favour.
Sources said Chandrababu Naidu is all set to meet Congress president Rahul Gandhi tomorrow in Delhi in a bid to mobilise the party to play a crucial role to forge Opposition unity.
Reports also suggest that Chandrababu Naidu is also planning to meet Bahujan Samaj Party (BSP) supremo Mayawati today in Uttar Pradesh.
Andhra Pradesh CM Chandrababu Naidu is also scheduled to meet Nationalist Congress Party (NCP) leader Sharad Yadav and has expressed desire to meet UPA chairperson Sonia Gandhi.
The TDP chief, in the past, has been vocal about the Opposition unity and how, for him, that is the surest way to oust Prime Minister Narendra Modi and defeat the BJP. Naidu was the first leader who initiated the anti-BJP front.
Chandrababu Naidu had earlier flew to West Bengal to show his support to state Chief Minister Mamata Banerjee.