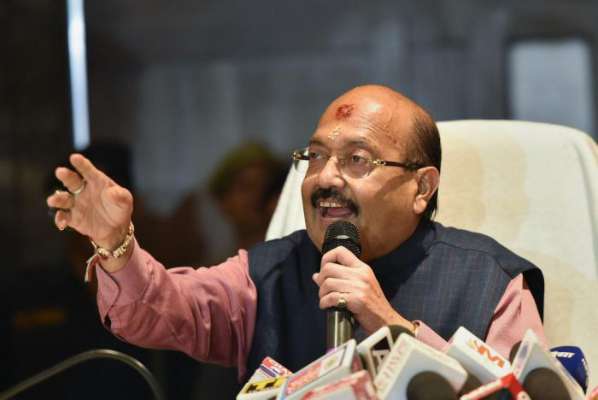 Azam Khan threatened my daughters: Amar Singh
Rajya Sabha member Amar Singh today accused SP leader Azam Khan of threatening his minor daughters with an acid attack and said he will seek security for them.
Amar Singh, who has been expelled from the SP, said he will meet Uttar Pradesh Governor Ram Naik tomorrow with the demand.
"I want security for my daughters, who feel threatened," he said.
Singh also demanded a probe into the funding of Rampur's Maulana Mohammad Ali Jauhar University, headed by Azam Khan as its chancellor.
Singh claimed Azam Khan had threatened him and his twin 17-year-old daughters during an interview to a television channel.
The former SP leader said he will be in Rampur on August 30 and asked Khan to "sacrifice" him and "spare" his daughters.
He said western Uttar Pradesh saw no riots "even at the time of Partition," but there were clashes when Azam Khan was "in charge" of the region under the previous SP government.
Singh said Azam Khan did not have the right to stay in the country.
He called the Samajwadi Party 'Namazwadi Party'.
He said Union Home Minister Rajnath Singh and UP Governor Ram Naik should probe the funding of Maulana Mohammad Ali Jauhar University.
On Akhilesh Yadav's plan to construct a Vishnu temple if voted to power, Singh said, "Those who order firing on karsevaks are talking about constructing a temple."
He was apparently referring to the 1990 firing on karsevaks heading towards the disputed Ramjanmabhoomi-Babri Masjid site.
On the SP charge that he is an "awsarwadi" (opportunist), Singh said none of his family members are in politics, unlike the Yadav family, "and they call me opportunist".
He said if talking about protecting his own daughters is communal, he does not mind being called that.
Singh has earlier said he is not averse to joining the Bharatiya Janata Party.
"As a common man I will campaign for the BJP. There is no need for joining the party for it," he said today.