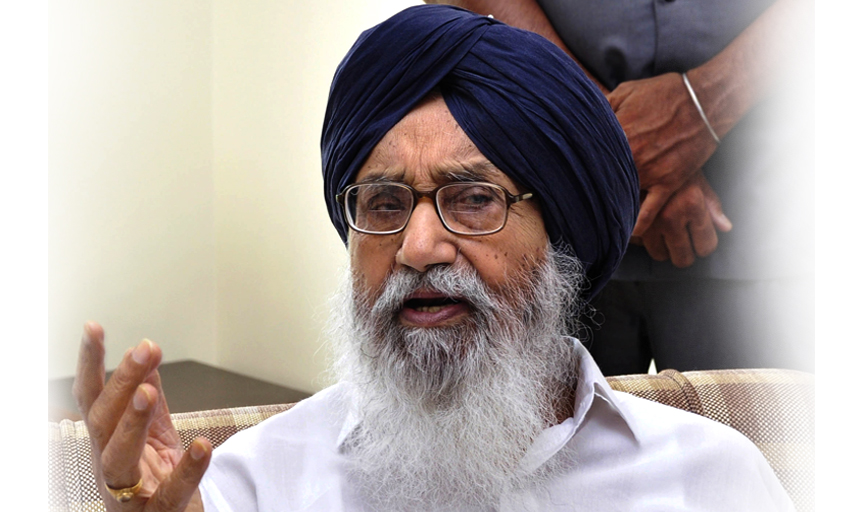 Chandigarh: Former Chief Minister and Shiromani Akali Dal (SAD) Patron Parkash Singh Badal today urged Union Home Minsiter Rajnath Singh to intervene and get the working hours allowed to Punjabi farmers to tend to their fields beyond the barbed wire fence on the international border with Pakistan increased appropriately.
In a statement here, the former Chief Minister said reports filtering in from the border areas indicated that farmers were facing hardships in harvesting wheat because of restrictions in movement to fields situated between the international border and the barbed wire fence which has been constructed in Indian territory. He said input costs of farmers increased substatantially because they were able to tend to their fields for only four to five hours every day.
Mr Badal requested the Home minister to get the working hours allowed to farmers to tend to their fields across the fencing extended during harvesting as well as crop planting seasons. He also urged that the Border Security Force (BSF) be asked to make the checking procedure more quick and efficient so that farmers did not spend hours waiting before they could cross the fencing gate to reach their fields.
The former CM also requested the centre to ask the BSF to construct pontoon bridges during the harvesting season so that farmers are able to transport combine Harvestors and tractor – trolleys across the Sutlej river after the barbed wire fence to reach their fields. He said there were reports that farmers faced huge losses in case floating piers made to transport heavy equipment across the river developed problems.
Mr Badal also asked the new Congress Governemnt to compensate farmers liberally for the hardships faced by them in tending their fields across the barbed fencing. He said it was under his Chief Ministership in 1997-2002 that a scheme was intiatied to give compensation of Rs 2,500 per acre to farmers for 21,000 acres of land situated in Amritsar, Gurdaspur, Tarn Taran and Fazilka districts. He said this scheme was however discontinued during Congress rule in 2002-2007. The former CM said in 2016 the SAD-BJP government had increased the compensation amount to Rs 10,000 per acre.
— PTC News