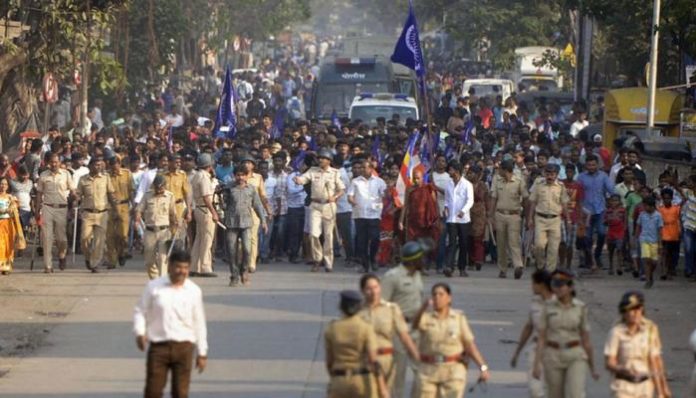 Bandh situation across country at 1700 hrs
Normal life was hit in some states Monday with offices and educational institutes remaining closed and vehicles off the roads during an opposition-sponsored Bharat Bandh in protest against rising prices of petrol and diesel. The bandh was largely peaceful, barring some incidents of violence. The situation across the country at 1700 hrs:
Delhi: Normal life remained unaffected with offices, schools and colleges opening at their regular time and vehicles plying on roads despite a bandh call given by the Congress and protests staged by it across the national capital against the steep hike in petrol and diesel prices.
Uttar Pradesh: Amidst tight security by the state government, commercial establishments, offices, schools and colleges operated as per their regular schedule and vehicular traffic in main towns and cities of the state remained unaffected by the bandh.
Chief Minister Yogi Adityanath slammed the Opposition, saying this kind of "negative thinking" will obliterate them from the opposition benches soon.
Punjab/Haryana: There was no report of any untoward incident from any place as sufficient security arrangements were made by the police to maintain law and order, officials said.
In the morning, shopkeepers and traders at some places kept the shutters down in Punjab and Haryana.
Gujarat: It evoked a mixed response with the party calling the shutdown successful while the police claimed it had no major impact.
said over 300 Congress functionaries were detained across the state, including state party chief Amit Chavda and Gujarat party in charge Rajiv Satav from Lal Darwaja area here.
Maharashtra: Workers from several political parties, including the Congress and the MNS, briefly disrupted transport services by stopping suburban trains and metro rail at various places in Mumbai.
Nearly 100 Congress leaders and workers were detained during the protest in the state capital.
Goa: Congress leaders visited fuel pumps to apprise people of the Centre's policies. All India Congress Committee secretary A Chellakumar told reporters that the state unit of the Congress was not observing the shutdown as Goa is getting ready for Ganesh Chaturthi.
West Bengal: Almost all schools and colleges were open with the scheduled examinations underway and the office-goers were seen rushing to office. Train services were also normal.
Odisha: At least 10 trains were cancelled and several others regulated in the jurisdiction of the East Coast Railway (ECoR) in view of the bandh. Commuters were stranded in many places as buses, taxis and autorickshaws stayed off the roads.
Mizoram: Shops, offices and educational institutions were open in Congress-ruled Mizoram as there was no impact of the bandh anywhere in the state.
Bihar: Arson, vandalism and disruption of rail and road traffic were reported from various parts of Bihar during the bandh.
A three-year-old girl died in the Jehanabad district which the BJP alleged was due to delay in find a vehicle to take her to the hospital. Private schools and a sizeable number of shopping establishments remained closed.
Assam:  Normal life was hit in BJP-ruled Assam. Congress workers attempted to stop movement of trains by squatting on the railway tracks and tried to block national highways and main roads across the state by burning tyres and setting up bamboo barricades.
Telangana: It evoked a mixed response as it was business as usual in many parts of the state, including the capital city.No untoward incidents have been reported so far, police said.
Kerala: Both public and private transport buses and autorickshaws kept off the roads across the state in response to the strike which began at 6 am. A large number of people including women and elderly, who arrived in the state capital by train from faraway places, were left stranded at the Thampanoor Railway station.
Tamil Nadu: Police sources said government buses were plying as usual even as educational institutions and a large number of shops and commercial establishments remained open.
Karnataka: Roads in the city wore a deserted look since morning as government buses, private taxis and most of the autorickshaws did not ply. Business establishments, shops, malls, certain private enterprises remained closed.KSRTC buses kept off the road, sources said, adding city buses also did not ply.
Andhra Pradesh: Most of the educational institutions remained closed because of the bandh. Petrol stations too remained closed. Otherwise, there has not been much of an impact due to the shutdown.
Puducherry: Public vehicles remained off roads, while stones were thrown at a Tamil Nadu government-owned express bus and a private college vehicle.
More than 300 people belonging to different political parties, including the youth wing of the ruling Congress, were taken into custody when they attempted to stage a protest at the bus terminal and also at some central government offices.
Also Read: Bharat Bandh: Security heightened in Pune, Karnataka