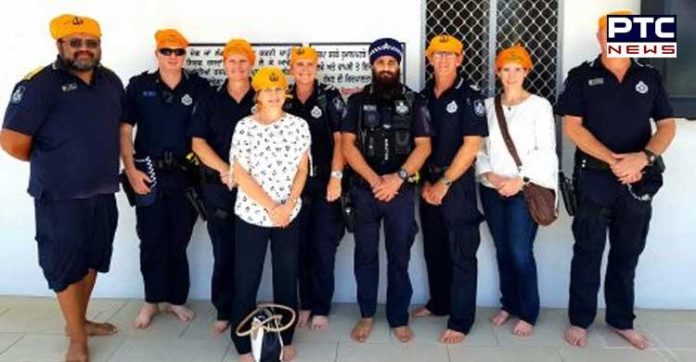 Bayside police visit Brisbane Sikh Temple
Bayside Patrol Group of Capalaba Police Station and QPS Recruiting and Bayside District Crime Prevention (DCPC) visited Brisbane Sikh temple on December 3.  They were given Sikh religion lessons.
Also Read: American film based on Canadian Sikh boxer's life to release in US and Canada
Constable Sukhwinder Singh was recruited to the Capalaba Police Station, a few months ago. As a practising Sikh, he wears turban and keeps his beard. On November 28, the Capalaba Police station was invited to the Brisbane Sikh Temple.
The Capalaba Police Station Officer in Charge and acting Senior Sergeant, Wayne Richter, said that the Sukhwinder Singh is an integral part of the Capalaba Police Team.
Acting Senior Sergeant Wayne Richter said, "It is fantastic to get the opportunity to experience part of his culture and it gives the rest of us some understanding of his background, his beliefs and how we can best support him in the workplace. We have put the order out for him to bring in some curry and traditional Sikh tea, however, he's admitted that he's still working on those culinary skills."
Also Read: After Kiki Train Video, Court Orders 3 Men To Clean Mumbai Station
Sukhwinder Singh spent his first year at Logan District stationed at Browns Plains before being confirmed at Capalaba Police Station. The QPS embraces the cultural diversity and welcomes him to bayside police.
-PTC NEWS