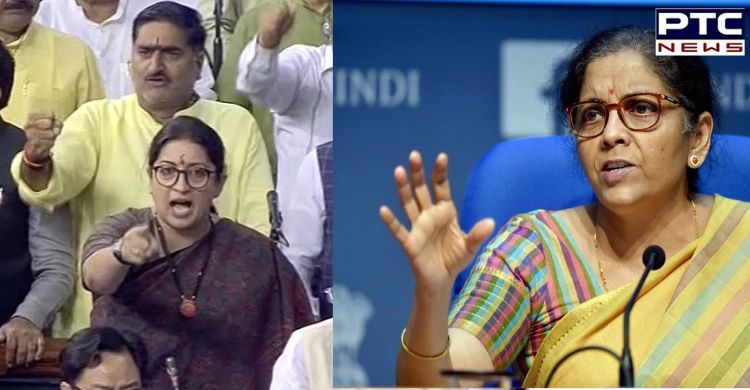 New Delhi, July 28: After Congress leader and Lok Sabha MP Adhir Chowdhury referred to President Droupadi Murmu as "Rashtrapatni," Union Minister Smriti Irani on Thursday criticised the Congress and demanded an apology for maliciously targeting the President.

Slamming Congress, Irani said that the country knows the opposition party is "anti-tribal, anti-Dalit and anti-women". Congress needs to apologise in Parliament and on the streets of India, the Union Minister added.
Meanwhile, Adhir Ranjan Chowdhary stated that he had used the term "Rashtrapatni" by mistake and that the ruling party was deliberately trying to make a mountain out of a molehill.
Furthermore, providing clarification on the matter, Congress interim president Sonia Gandhi stated that Adhir Ranjan Chowdhury "has already apologised".
"Ever since the name of Droupadi Murmu has been announced as the candidate for the presidency of India. She has been targeted maliciously by the Congress party. Congressmen had termed her a puppet candidate, and Congressmen have called her a symbol of evil. Their attacks do not seem to stop against Droupadi Murmu ji even after she has now been elected to the highest constitutional office of the country," said Smriti Irani before the Parliament began.
Also Read | Amit Shah to visit Chandigarh on July 30; traffic police issue advisory
The Union Minister slammed the opposition party, claiming that, despite being led by a woman, Sonia Gandhi, Congress leaders continue to demean women in constitutional positions.
"The Congressman knew that to address the President of India in this way not only demeans her constitutional post but also the rich tribal legacy that she represents," Irani stated.
Earlier on Wednesday, Congress leader Ajoy Kumar had said that Droupadi Murmu represents a "very evil philosophy of India."
On Thursday, women MPs including Union Minister Nirmala Sitharaman staged a protest in the Parliament complex and demanded an apology from Sonia Gandhi.
Also Read | Centre floats tender to develop monkeypox vaccine, diagnostic kits
-PTC News