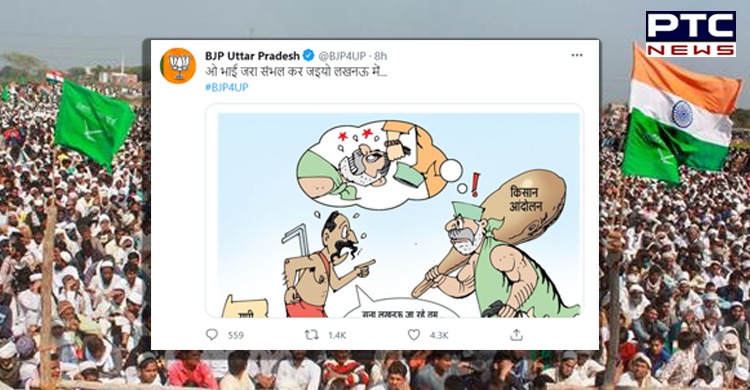 'Mission Uttar Pradesh-Uttarakhand', Farmers' protest: A cartoon put up on the Uttar Pradesh (UP) BJP Twitter handle has angered the agitating farmer unions, which say it is in bad taste and is meant to show the farmers' movement against the three farm laws in poor light.

The cartoon apparently conveys the impression that the farmers' protest, if brought to Uttar Pradesh, will face the same fate as of various "muscle-men", who have been "punished" by the Uttar Pradesh Government.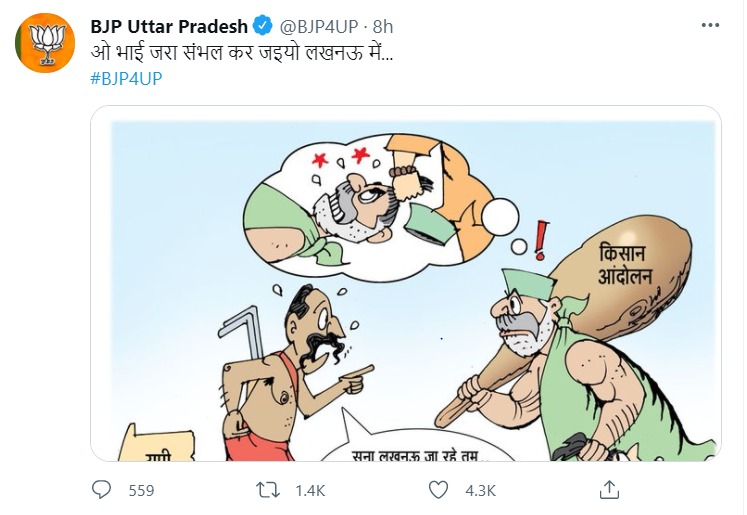 Also read | Farmers' Protest: Samyukta Kisan Morcha launches 'Mission Uttar Pradesh and Uttarakhand'
For the past eight months, several farmer unions, under the banner of the Samyukt Kisan Morcha (SKM), have been protesting at the Delhi borders seeking the repeal of the three 'black' farm laws.

The cartoon by the Uttar Pradesh BJP has snowballed into a controversy. This comes days after Bharatiya Kisan Union (BKU) leader Rakesh Tikait had threatened Delhi-like protests in state capital Lucknow demanding an increase in the MSP of sugarcane.
Also read | Haryana girl makes a mark on boxing debut at Olympics 
The cartoon, which was tweeted on Thursday, shows a 'Bahubali' telling another man to be alert as he is going to Lucknow where Yogiji is sitting, who not just takes action, but also puts up posters. The caption of the cartoon says 'O Bhai Zara Sambhal Kar Jaiyo Lucknow Me…" (Please beware while going to Lucknow).
When contacted, a farmer leader said the message was loud and clear what farmers and their agitation meant to the BJP. He described it as an insult to the farming community.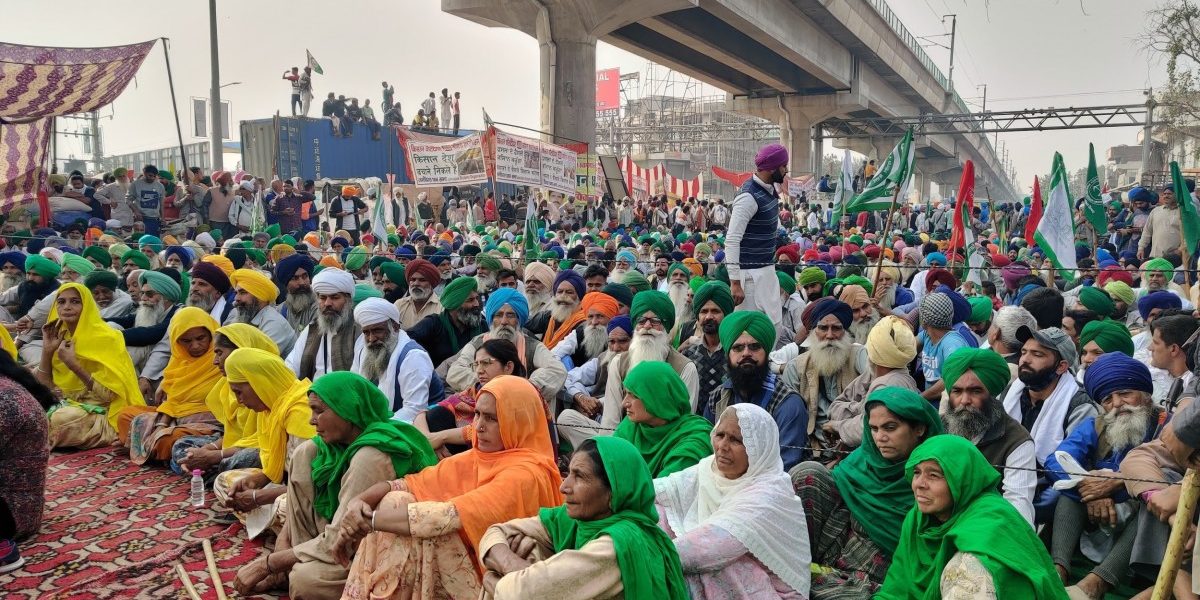 Notably, Like in West Bengal, farmers vow to build a movement against the BJP in Uttar Pradesh, Uttarakhand, Punjab and Himachal Pradesh, where the Assembly elections are scheduled in 2022.
The Samyukt Kisan Morcha, an umbrella organisation with over 500 farmers' unions, which is coordinating the protests, has said it will launch a "Defeat BJP: Mission Uttar Pradesh" campaign and hold mahapanchayats across the state of UP with anti-BJP slogans ahead of the elections.
-PTC News