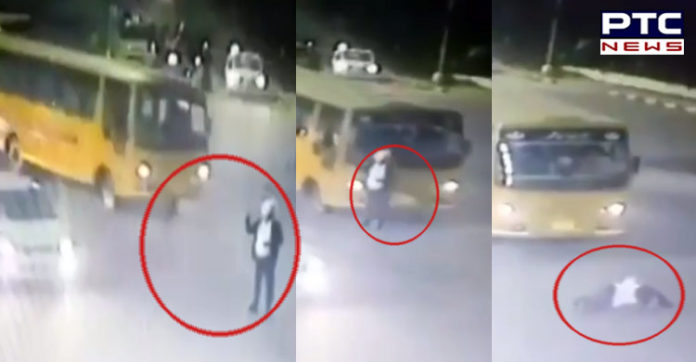 Chandigarh: In a tragic incident, an on-duty traffic cop was hit by a speeding bus at Kali Bari light point on Saturday night. The traffic cop was admitted to Government Medical College and Hospital (GMCH), Sector 32. The incident took place at the Kali Bari light point where Constable Kuldeep Singh was regulating the traffic.
Watch it here: 
The whole incident was captured in the CCTV camera installed nearby. In CCTV footage, a bus coming from the Tribune Chowk side took a turn toward Sector 31/47 dividing road. The bus hit the constable who had his back to the vehicle. The impact was so hard that the cop rolled few metres after being hit.
The bus stopped and did not run over the constable. Meanwhile, the passersby ran to the cop and rushed him to the hospital in a private vehicle. The police impounded the bus and registered a case against the driver. As per report, the condition of the traffic cop is stated to be stable.
Speeding car falls off Hyderabad flyover, Pedestrian crushed to death [VIDEO]
The video has gone viral on social media. The people are sharing their concern about the traffic cop, while some of them are giving their own opinion. A user said, "It's a fault of that traffic police officer as well. Why is he standing in the middle of that busy road without any reflectors or traffic booth?" "Traffic police should be provided at least class 2 high visibility vests," said another user.
-PTC News