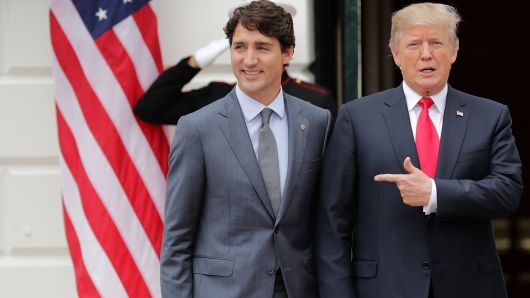 Canada, U.S. Reach NAFTA Deal After Year Of Testy Negotiations
If reports in Canadian media are any indication, the NAFTA Deal has been finally clinched. Now Canada can rejoin the trilateral trade pact after 14 months of a virtual war of words, accusations and counter-accusations and speculations that the US and Mexico can go their way leaving Canada out.
Late last night, it was almost one hour's meeting that clinched the issue. The breakthrough came after 14 months of tumultuous talks and just hours before U.S. and Mexican trade authorities were set to publish their own trade agreement without Canada as a signatory.
Several Federal cabinet ministers were expectedly summoned to a late Sunday meeting at the Prime Minister's office near Parliament Hill, and the White House called its own late-night trade briefing.
"It's a good day for Canada," said Prime Minister Justin Trudeau as the meeting ended just over an hour after it started.
The Prime Minister Justin Trudeau will hold a  Cabinet meeting  and  a Press Conference on Monday to give the details.
A lot of hard work was put in to bring the stakeholders to negotiations table so as to find common grounds for both the US and Canada to make sure that the trilateral trade agreement was still not over.
Also Read: Canadian govt working with police to hunt suspects in Indian eatery blast case: Trudeau
Elated at their success, most of  key stakeholders who have been on the edge of their seats waiting to see if Canada and the United States would find common ground, have been exchanging congratulatory messages at the success of late Sunday meeting.
The major clincher, sources said, was  the agreement on how to treat the auto sector, reached this summer between the United States and Mexico, was central to a revamped NAFTA going ahead.
Besides the auto sector,  the other major irritant  between the  U.S. and Canada had been conflicts dealing with other areas in the pact, including Canada's dairy industry, its insistence on a strong dispute settlement mechanism and concerns about intellectual property and culture.
Media reports suggest that after weeks of hunkering down in Washington, Foreign Affairs Minister Chrystia Freeland and David MacNaughton, Canada's ambassador to the U.S., had spent the day in Ottawa taking part in an aggressive, long-distance, last-minute push to get Canada into the trilateral free trade deal ahead of a key congressional deadline.
Central to the discussions Sunday was an effort to secure some sort of assurance that would allow Canada to avoid the dreaded Section 232 tariffs on steel, aluminum and auto exports, which U.S. President Donald Trump has either threatened or already imposed on national security grounds, the reports said.
Canada had been offering the Americans better access to its protected dairy market so as to win American concessions for overall dispute settlement
Trudeau has promised repeatedly to keep the country's supply management system intact, despite pressure from Trump. The issue has also figured prominently in Quebec, where voters go to the polls in a provincial election on Monday.
-PTC NEWS