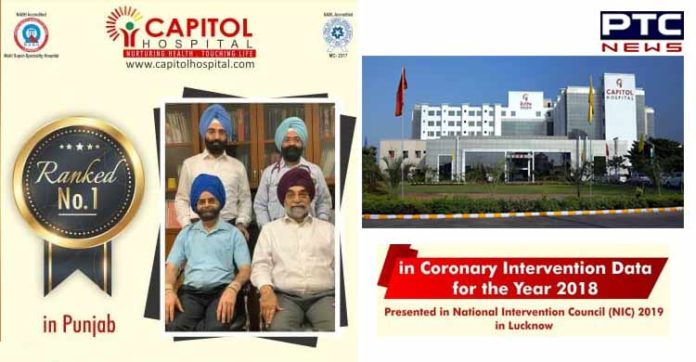 Capitol Hospital Ranked No. 1 In PB In Coronary Intervention Data for Year 2018 In National Interventional Council 2019
In National Interventional Council 2019 which is held in Lucknow.Capitol Hospital Ranked No. 1 in Punjab in Coronary Intervention Data. The data has been represented by the Dr. A. Sreenivas Kumar who is the chairman and chief Cardiologist in Cardiovascular Sciences, at Citizens Hospitals, Hyderabad.
Also Read: People of Punjab again deprived of relief in Petrol/Diesel prices due to Manpreet Badal as meeting postponed
Capitol Hospital reaches a significant landmark by becoming the number one centre in performing Coronary interventions in Punjab. According to the data presented at the National interventional council annual meet in Lucknow, Capitol Hospital performed the highest number of heart procedures in the state of Punjab in 2018. Coronary interventions in India are increasing exponentially each year. This year the data was collected from 709 cardiac centres across the country.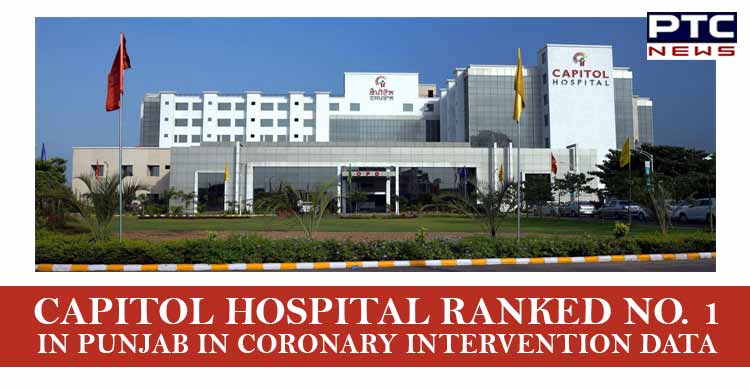 National Interventional Council (NIC) is the Interventional faction of the Cardiological Society of India (CSI), representing more than 3000 interventional cardiologists. it organises an annual national meeting where more than 600 case presentations on various complications, nightmares, techniques and technologies are made.
Also Read: Prostate Cancer: symptoms, risk factors and treatment
Dr. CS Pruthi began his first dream project to provide the best quality cardiac care facilities to the people of Punjab by starting BBC Heart care in 1995. it was inaugurated by the then Union Finance Minister, Dr. Manmohan Singh. The journey led to the birth of the largest Multi Superspeciality Hospital-" Capitol Hospital which has now been providing best in class multispeciality healthcare facilities to the people of the region.
The cardiology department  ( Dr. CS Pruthi, Dr. Ajitpal Singh, Dr. Harnoor Singh Pruthi, Dr. Charanjeet Singh (major general), Dr. Prithvi Raj Puwar )of Capitol hospital is sincerely thankful to the people of Punjab and its neighboring states for all the support. We look forward to continue our efforts to provide best quality healthcare to the people and reach newer heights in the coming years.
– PTC NEWS