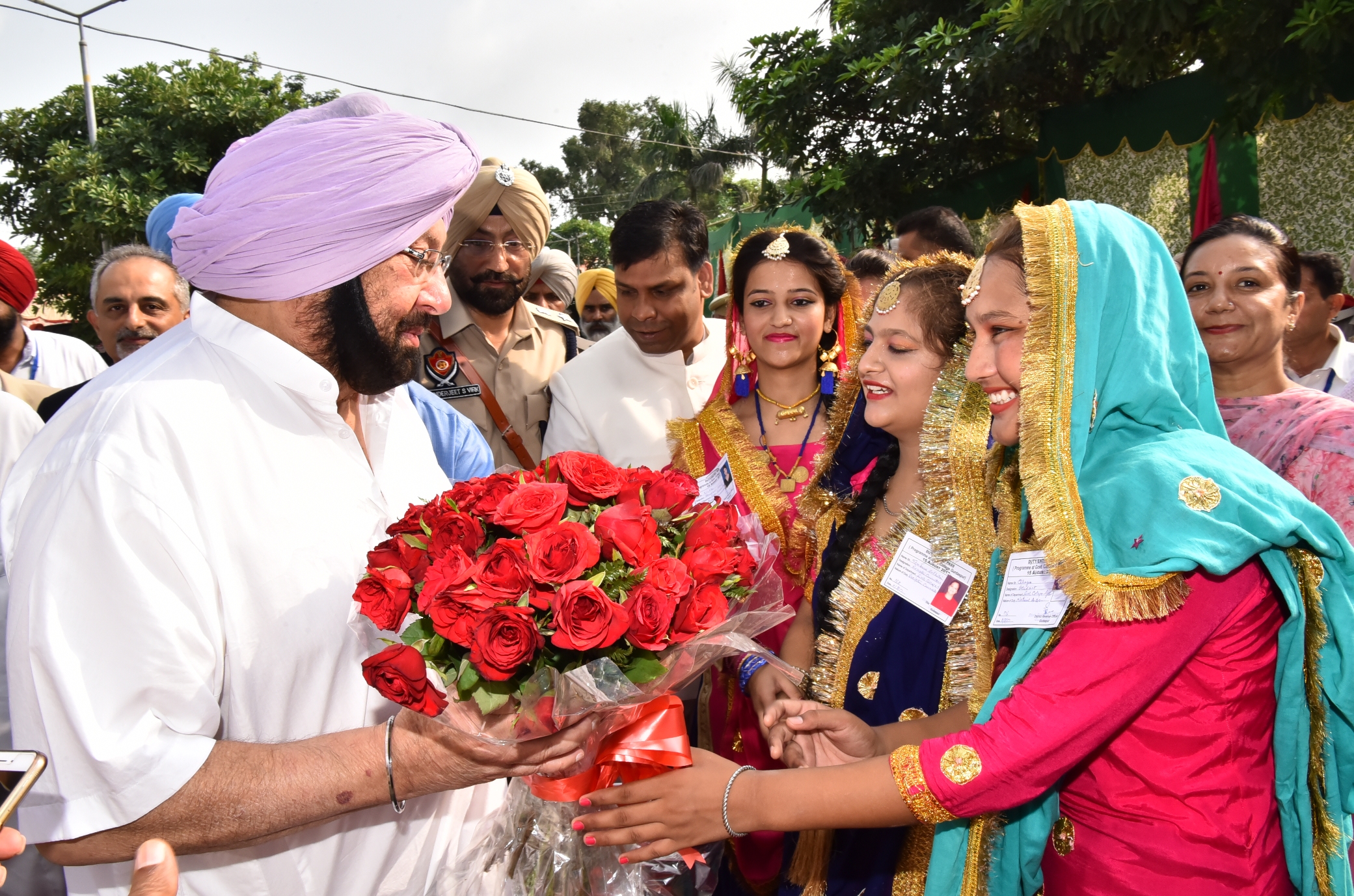 · Appeals to farmers not to commit suicide, announces 50000 jobs for youth in 1st phase
Gurdaspur: Punjab Chief Minister Captain Amarinder Singh on Tuesday appealed to farmers not to resort to suicide, while announcing his government's decision to provide jobs to 50000 youth in the first phase of the 'Ghar Ghar Mein Naukri' scheme.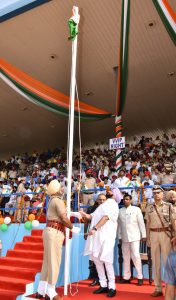 Speaking at the Independence Day celebrations at Gurdaspur after unfurling the national flag, the Chief Minister announced the launch of a recruitment campaign for the government sector to fill all critical vacant posts soon, thus providing employment to the jobless in the state. Rozgar Melas (Job Fairs) would be held across the state to implement his government's election promise to provide employment to the unemployed youth, he announced.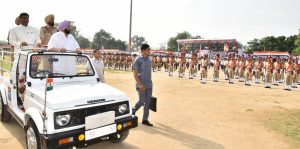 The Chief Minister, who earlier took the guard of honour and enjoyed an enthralling display of Gatka by school children, vowed, on this sacred occasion, to make Punjab a peaceful, healthy and prosperous state – free from drugs and debt.
The Chief Minister, on this occasion, also announced a Rs 2500 crore Annual Repair Programme for all link roads. The programme will be launched shortly with the laying and repair of 22870 kilometers of such roads in the state, he said.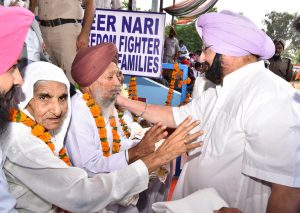 Each and every household in the state will have a toilet before December 31, 2017, the Chief Minister announced, adding that Rs 2100 crore had been set aside to ensure complete facelift of schools besides providing requisite infrastructure, while another Rs 806 had been allocated for upgradation of health infrastructure.
Pointing out that his government had waived off crop loans up to Rs. 2 lac for all small and marginal farmers, besides extending debt relief up to Rs.2 lac provided to marginal farmers having total debt of over Rs.2 lac each, the Chief Minister appealed to farmers not to commit suicide or take any other extreme step to escape their debt burdens. The loan waiver scheme would be implemented in about a month's time and the government would ensure that the loans of the farmers are paid, without necessitating any payment from them, he added.
The Chief Minister reiterated his resolve to maintain law and order in the state at all costs, saying his government was committed to zero tolerance to unlawful activities, drugs and armed gangs. There had been a perceptible decline in crime in the state in the past five months with greater focus on the establishment of the Rule of Law, he added.
Referring to the war on drugs by the Special Task Force (STF), Captain Amarinder said the force had been given a free hand, leading to the registration of as many as 6018 cases under the NDPS Act so far. A total of 6933 people, including some police officials who were abetting such activities, had been arrested, and more than 97 kg heroin had been recovered besides other banned substances, he added. Besides, supplies of Schedule-H drugs/ prescription drugs, which were misused in the State to produce synthetic drugs, had gone down by 50 percent in the last three months, said the Chief Minister.
Captain Amarinder said his Government was committed to provide justice to the innocent people booked in false cases under the previous regime and the judicial commission set up to probe all such cases would soon submit its report. A similar commission set up to investigate cases of sacrilege was also working to identify the culprits, whom his government would soon bring to book, he added.
With a view to boosting industrialisation in Punjab, the Chief Minister said his government had frozen Electricity Tariff at Rs.5 per unit for new and existing industries and the new industrial policy on the anvil would further promote ease of doing business in the state. He listed out steps taken to promote real estate, including reduction of Stamp Duty on registration of urban properties from 9 percent to 6 percent.
Referring to his government's 'Guardians of Governance" scheme, Captain Amarinder said that this voluntarily force of ex-servicemen would ensure the honest and sincere implementation of all government schemes and programmes to ensure that benefits of these schemes reach the most deserving people. He said that 1000 Guardians of Governance would be recruited in about a month's time.
Describing the steps being taken for women empowerment in the state, the Chief Minister said reservation for women in Urban Local Bodies and Panchayats had been enhanced to 50 percent, besides other initiatives for the welfare of girls and women.
The Chief Minister said pension under the social security scheme in the state would be increased to Rs 1000 next year from the existing Rs 750.
Prominent amongst those who were present on the occasion included Media Advisor to CM Raveen Thukral, MLAs Sukhjinder Singh Randhawa, Barindermeet Singh Pahra, Fatehjung Singh Bajwa, Balwinder Singh Laadi. Apart from these, Chief Secretary Karn Avtar Singh, DGP Suresh Arora, ADGP Border-cum-STF Chief Harpreet Singh Sidhu, Deputy Commissioner Amit Kumar and SSP Bhupinderjit Singh Virk were also present.
—PTC News