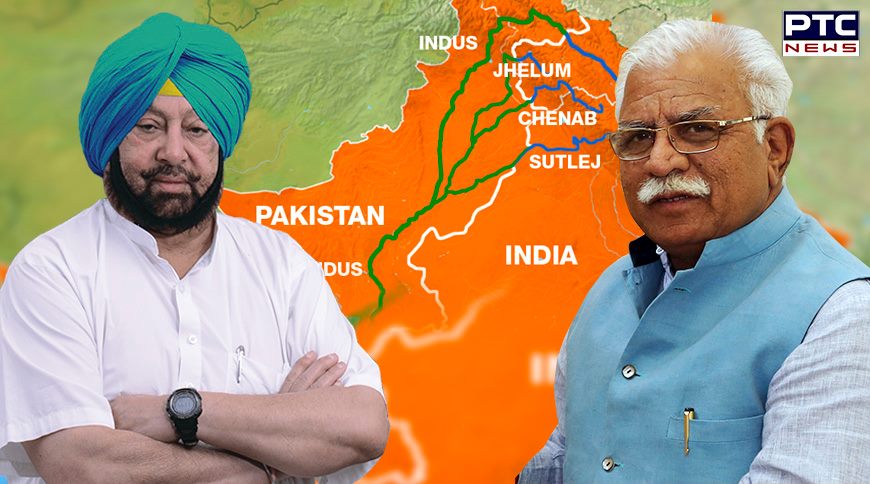 Punjab Chief Minister Captain Amarinder Singh on Monday shared the concern of his Haryana counterpart ML Khattar on wasteful flow of river waters into Pakistan but urged `careful assessment' of the matter, while calling for similar efforts to prevent wastage of Yamuna river water too.
Captain Amarinder ruled out the need for any separate interaction between Punjab and Haryana for engaging BBMB to undertake feasibility studies on the proposed 2nd Ravi-Beas Link since the matter was under consideration of the High Powered Committee set up by the Government of India for implementation of National Projects.
"We would surely like to check all wasteful flows of river waters, and secure every drop of it for our farmers,  but these have to be carefully assessed," Captain Amarinder said, replying to Khattar's D.O. letter No.81437 (c) of 07.05.2018 on utilization of Ravi Water flowing into Pakistan.
"In Punjab, we are of the considered opinion to fully secure and utilize the  Water Ravi as also of other two rivers: Sutlej and Beas for our farmers, without letting it go waste in any manner," said Captain Amarinder, while calling for concerted efforts also for utilization of all other River waters going waste. Citing authoritative sources, he said out of the 75% Yamuna waters received in the month of July, August and September, as much as 50% goes waste.
Acknowledging the need for preventing wasteful flow of river water, Captain Amarinder said that Punjab was indeed facing unprecedented water crisis, with its water needs for agriculture having been assessed at 52 MAF,  of which river water contribution is hardly to the extent of 27% only. This was causing the farmers to depend underground water resources, which had depleted alarmingly, he wrote.
Captain Amarinder, however, pointed out that the utilisable discharge of  River Ravi had been determined at Madhopur rim station, and the discharge flowing in tributaries  (Ujh, Bein, Basantar, Jallala and Tarnah) which join river Ravi downstream  Madhopur Headworks, was flashy, uncertain and unreliable. A storage dam on  Ujh rivulet had been planned by J&K Government in their territory up-stream of an existing barrage on the said rivulet, he further pointed out.
Noting that the wastage of discharge pertained mainly to supply of water from Ujh, the Punjab Chief Minister suggested that it might, therefore, "be appropriate to examine  availability of discharge post-construction of Ujh dam."
On the basis of flow data for the period 1999 to 2008, and data available from Google earth imageries, two alternative proposals were prepared by Central Water Commission (CWC) for diversion of Ravi waters to Harike or any other suitable place on Beas River, the Punjab Chief Minister wrote in his communique to his Haryana counterpart. The first proposal, he said, pertained to lifting of water of river Ravi at Makkora Pattan and dropping it in  UBDC mainline at RD 79,000, while the second pertained to lifting of water at Jainpur and dropping the same in UBDC mainline at RD 79,000. Both these proposals were not found technically feasible, he said, adding that CWC had received the technical reports in 2015.
Further, Captain Amarinder pointed out that the High Powered Steering Committee for implementation of National Projects considered the matter in its meeting on 03.03.2017 and a team comprising officers of Central Water Commission and Irrigation Department Punjab was constituted to visit the site of the proposed 2nd Ravi-Beas Link. The team has not yet suggested any technically viable option which can be finalised, he said, adding that, apparently, construction of water reservoirs in Punjab for Ravi waters was not technically possible.
-PTC News