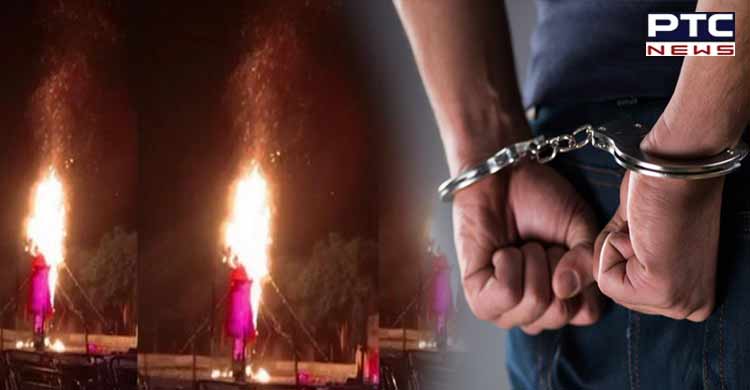 Chandigarh: In a major breakthrough, Chandigarh police on Saturday arrested 3 men in the case of burning effigy of Meghnad a day before dussehra in Sector-46.

Also Read| Delhi Police arrest mastermind in Mohali RPG attack case
Three youths arrested for burning the effigy of Meghnad in Sector 46 of Chandigarh have been identified as 31-year-old Aryan resident of Sector-68, Mohali, 31-year-old Tejinder Singh resident of Sunny Enclave Kharar and 19-year-old Jasraj Singh. A Fortuner vehicle has also been recovered from the accused. Among them, Tejinder Singh lives in Australia. The police will present the three in court today and they will be remandedfor further investigation. It will be ascertained from the accused why they had set the effigy on fire and at whose request.
Effigies of Ravana, Meghnad and Kumbhakaran were to be burnt in the Dussehra ground located in Sector-46, but the accused youth set Meghnad's effigy on fire at midnight. The accused in the Fortuner of Haryana number released a rocket bomb (fireworks) at the effigy of Ravana. Their target was Ravana's effigy but the fire fell on Meghnad's effigy. The rocket landed directly next to Meghnad's effigy and burnt it. After this, the accused escaped from the spot.
In this matter, a case has been registered in Sector-34 police station on the complaint of Shri Sanatan Dharma Dussehra Committee President Narendra Bhatia located in Sector-46. Meanwhile, while running to an eyewitness, he had noted down the last two digits 3 and 7 of the accused's Haryana Fortuner number. As soon as the police received the information, after checking various numbers, the police finally reached the original vehicle number HR 26CG 3137 of the accused.
Also Read| Punjab regularises services of 9,000 contractual teachers; notification issued
-PTC News