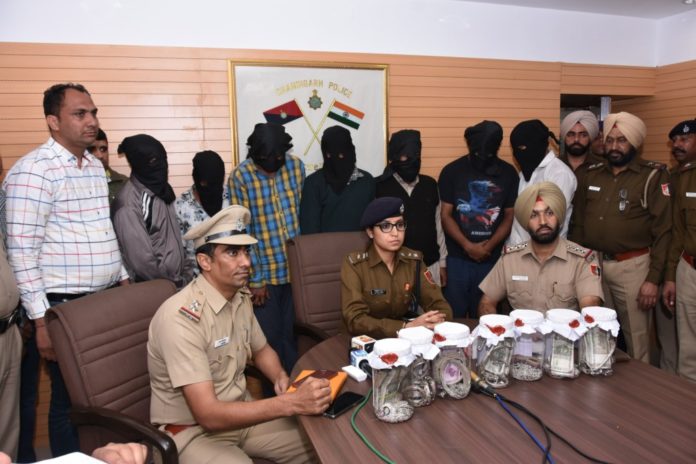 Chandigarh Police achieved a major success in "Cheating case " by arresting 7 accused by the team of Police Station-36 Chandigarh.
On 31.10.18 Case FIR no. 388 dt. 31.10.18 u/s 419,420,468,34 IPC, PS-36, Chd was registered on the complaint of Mr. Pappu Kumar S/o Mahendra Pal R/o H No 1511, Sec 52, Chd. Age 35 yrs in which he  stated that on 31.10.18 in morning two unknown persons (one Sikh & one Hindu gentleman) came at  his residence and introduced themselves as Income Tax Officers by showing their fake ID cards. The said men started frisking their house and taken away one bag containing Cash  Rs 8 Lakhs, One gold necklace (2 tolas), 2 ladies gold ring, 2 gents gold rings, silver and some documents.  The alleged persons told that their Office is situated at backside ISBT 43 and if he wants to release the property they have to come with proof of the said property at their office. There after, complainant searched IT office near ISBT, Sec-43, Chd but when they did not found the same they informed the Police  about the incident.
During the course of investigation on 7.11.18 the following accused were arrested and recovery effected against their names is as under:-
sr no      FIR          DATED  U/S        NAME OF ACCUSED        DATE OF ARREST              PROPERTY RECOVERED
388 31.10.18               419, 420, 468, 34 IPC        Amarbir Singh S/o Major Singh  R/o Gurusewak Nagar Dhnola  Barnala age 35 yrs            7.11.18  one lakh
395 Gm Silver
388 31.10.18               419, 420, 468, 34 IPC        Vikcy Kumar S/o Lt. Sh Mangla Ram R/o Back side Ram Bag , Barnala age 25 yrs            7.11.18  one lakh
415 Gm Silver
388 31.10.18               419, 420, 468, 34 IPC        Bhupinder Singh S/o Kultar Singh R/o Vill Upple Distt Barnala  age 45 yrs            7.11.18  one lakh
430 Gm Silver
388         31.10.18               419, 420, 468, 34 IPC        Charanjit Singh S/o Mahinder Singh R/o SAS Nagar Gali no. 12 near Taraksil Singh Chowk Barnala age 47 yrs 7.11.18  one lakh
395 Gm Silver
388 31.10.18               419, 420, 468, 34 IPC        Virender Singh s/o Magar Singh R/o Vill Galoli Distt Patiala age 24 yrs            7.11.18  one lakh
415 Gm Silver
388 31.10.18               419, 420, 468, 34 IPC        Manish Kumar S/o Sunder Pal R/o Peer colony Chungra Raod Patran Distt. Patiala age 28 yrs        7.11.18  one lakh
425 Gm Silver
388 31.10.18               419, 420, 468, 34 IPC        Prem Kumar S/o Vimal Kumar S/o Sabji Mandi near Santoshi Mata Mandir Patran Distt. Patiala Pb age 27 yrs, 7.11.18  one lakh
540 Gm Silver
The all accused are on 3 days Police remand and during the course of interrogation of accused the story behind this incident has come to light that complainant's mother are three sisters who are having 5 son in laws and all are residing in Patran, Distt. Patiala, Pb. The accused Virender Singh  who is cousin brother of Ramandeep Singh the brother-in-law of complainant, got information that Mrs Shakuntla the mother-in-law of Ramandeep Singh is having a huge amount of cash and gold and silver ornaments in her house. As the accused Virender Singh is not having cordial relations with complaint's family. So he along with his friend accused Prem Singla  hatched the criminal conspiracy to get out the money and gold ornaments from the house of complainant. In furtherance of this conspiracy they made contact with Charanjit @ Channi & Vicky who are previously involved in robbery cases in Barnala & Jalandhar Pb. Approx 15 days before the crime accused Virender along with Prem Singla and Manish came at Sec-52, Chd and Virender Showed them complainant's house and they made reccee around the house.
After that accused Charanjit, Vicky, Amarbir, Manish,  Bhupinder, Virender & Prem Singla with the connivance of each other made plan to commit this crime and constituted a fake Income Tax officers team by preparing their fake ID cards.  On  31.10.18 accused Vicky, Amarbir, Manish,  Bhupinder & Prem Singla came in Sec-52, Chd by their I-10 car no. PB19-N-2948. Accused Amarbir and Vicky went at house no. 1511 by introducing themselves as Income Tax officers by showing fake ID cards. Manish was stood in front of house and rest of the accused Prem Singla and Bhupinder were  seated in the Car, parked near School Sec-52, Chd. After committing the crime all accused fled away by their car.
After that all accused reached at Barnala where they divided cash about Rs.1 Lakh 15 thousand and jewellery each among them. There after they went to their homes after taking their shares. All the accused had spent approx Rs. 15000/- from their shares by arranging parties.
RECOVERY:-
Rs. 7 lakh cash.
3 KG silver.
Involved I-10 car no. PB19-N-2948
Fake ID Cards of Income Tax Dept.
All the accused are on Police remand and further more recoveries/ involvements in other crimes of tricity are likely to be effected from them.
-PTC NEWS