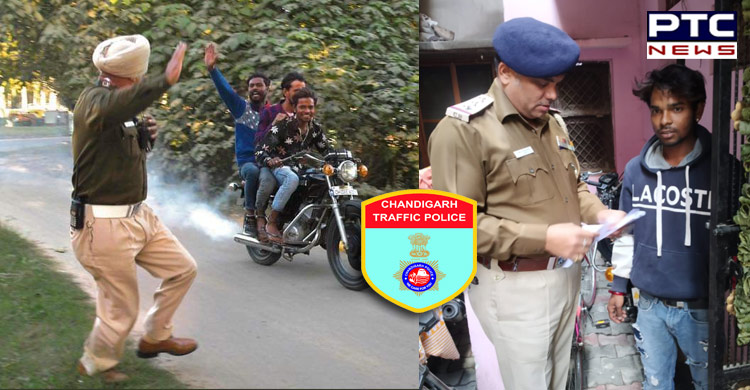 In a major incident, Chandigarh Police has caught the youth on a bike who challenged it to 'catch if you can'. The police accepted the challenge and gave a surprise to the bike rider in the next 48 hours. Two days ago three youths were riding while violating the traffic rules. When the police tried to stop them, they didn't stop and escaped from the spot.
https://twitter.com/ssptfcchd/status/1199594226897444864?s=20
Meanwhile, the police started tracking them and reached the bike driver and fined him heavily. The police is being highly appreciated as people are praising it on social media too.
The official account of SSP/Traffic, Chandigarh, said in a tweet, "#CatchMeIfYouCan #KoiShaq This recent image of traffic offenders evading law has caught the attention of many in Chandigarh. We in Traffic Police Chandigarh take such instances seriously. In 48 hours Traffic Police Inspector Sri Prakash has traced this bike and the offending driver has been served a heavy challan."
https://www.ptcnews.tv/new-traffic-rules-3-auto-rickshaw-drivers-charged-rs-9400-rs-27000-and-rs-37000-in-gurugram/
The incident is a lesson for all those who violate traffic rules and think that the police will not catch them. A social media user said, "Well Done and much appreciated! There are many like them plying openly, without any fear/concern/respect for law, in and around inner markets across the Sectors of Chandigarh - especially near schools and colleges. Request @ssptfcchd and @trafficchd to keep a check on these places as well.
-PTC News