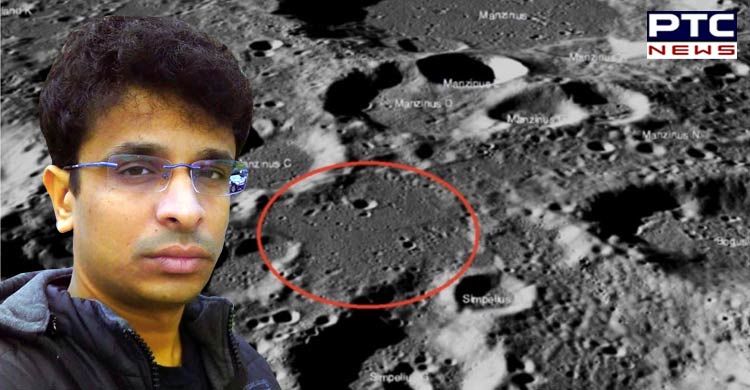 The National Aeronautics and Space Administration has credited Chennai-based engineer Shanmuga Subramanian with pictures of the Vikram Lander taken by the Lunar Reconnaisance Orbital Camera (LROC). He posted the picture on his Twitter account with the tweet, "NASA has credited me for finding Vikram Lander on moon's surface."
The new Twitter bio of Shanmuga Subramanian reads, "I found Vikram Lander!" The Chennai-based mechanical engineer alerted NASA about the presence of debris of Chandrayaan-2, India's moon mission launched by Indian Space Research Organisation (ISRO).
https://twitter.com/NASA/status/1201597561720725506?s=20
NASA and Arizona State University (ASU) announced on Monday that the site was located by Subramanian, who scoured the pictures taken by the Lunar Reconnaissance Orbital Camera (LROC) on his own. In a statement, ASU said that the debris located by Shanmuga is about 750 meters northwest of the main crash site.
NASA released the pictures and said, "This image shows the Vikram Lander impact point and associated debris field. Green dots indicate spacecraft debris (confirmed or likely). Blue dots locate disturbed soil, likely where small bits of the spacecraft churned up the regolith. 'S' indicates debris identified by Shanmuga Subramanian."
https://www.ptcnews.tv/hard-landing-may-have-disabled-communication-of-vikram-lander-former-isro-scientist-chandrayaan-2/
Images of the early findings were tweeted by Subramanian on October 3 and on November 17. He tagged NASA in both tweets. In the first tweet, he asked, "Is this Vikram Lander?" and in the second, he said, "This might be Vikram lander's crash site."
Vikram Lander lost communication with ISRO following the launch from Chandraayan-2 moon orbiter on September 6, while ISRO was trying to make a soft landing near the moon's south pole.
-PTC News