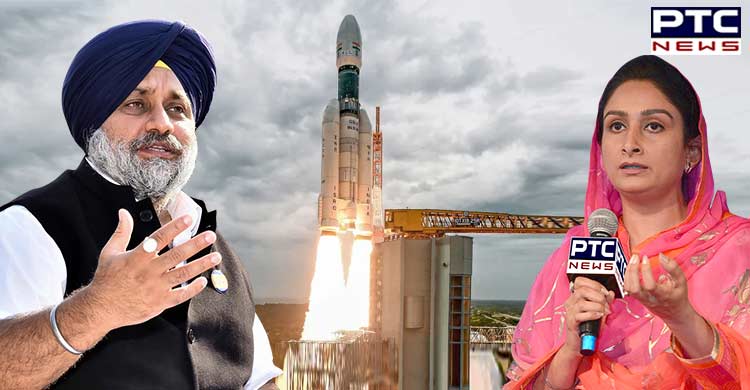 Chandrayaan 2: Shiromani Akali Dal President Sukhbir Singh Badal and Union Minister of Food Processing Harsimrat Kaur Badal laud ISRO scientists, on Saturday. Despite failure in landing Vikram Lander on the surface of moon, India is supporting the ISRO scientists for their passion and brilliance. Sukhbir Singh Badal said in a tweet, "India stands with the passionate and accomplished ISRO team with unwavering faith. The Chandrayaan 2 mission has greatly strengthened the research and space exploration capabilities of the nation. We salute our scientists. We will make it together."
https://twitter.com/officeofssbadal/status/1170219154932035585?s=20
Likewise, Union Minister Harsimrat Kaur Badal said, "The passion and brilliance of the ISRO team is awe inspiring. The Chandrayaan 2 mission remains a spectacular achievement for us. This journey continues and we will accomplish it together."
https://twitter.com/HarsimratBadal_/status/1170218910718672897?s=20
While applauding ISRO Chief K Sivan, she said, "Thanks to you Dr K. Sivan and our brilliant team from ISRO, we lived the glorious moments of the Chandrayaan 2 mission. Our eyes are still set on the moon and we trust you to take us there. We stand with you now and always."
Also Read: Harsimrat Kaur Badal, Sukhbir Singh Badal offer prayers at Golden Temple, Amritsar
Earlier, on Saturday, Prime Minister Narendra Modi encouraged the scientists at ISRO centre in Bengaluru. He said, "We will rise to the occasion and reach even newer heights of success. To our scientists I want to say- India is with you. You are exceptional professionals who have made an incredible contribution to national progress." Later, he hugged and consoled ISRO Chief K Sivan after he (Sivan) broke down.
-PTC News