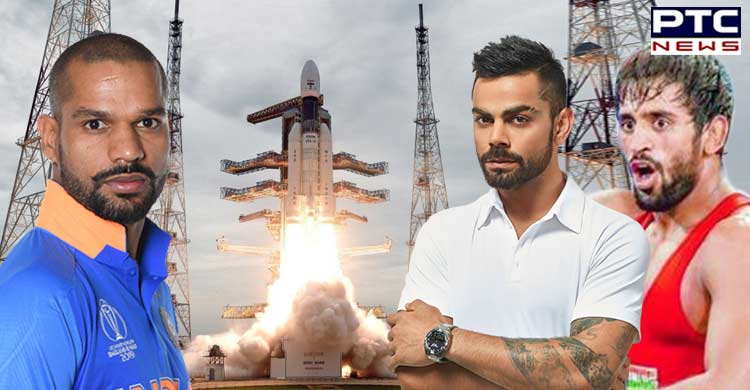 Chandrayaan 2: As Chandrayaan 2 missed the moon by 69 seconds, as Vikram Lander lost communications with the ground station, on Saturday morning, India missed to scipt down the history. Meanwhile, Virat Kohli, Shikhar Dhawan, Bajrang Punia and the entire sports fraternity salute ISRO for experiment. Even Prime Minister Narendra Modi encouraged the ISRO scientist by saying, "India is with you". Likewise, Virat Kohli said, "There's nothing like failure in science, we experiment & we gain. Massive respect for the scientists at ISRO who worked relentlessly over days & nights. The nation is proud of you, Jai Hind!".
https://twitter.com/imVkohli/status/1170234276022870016?s=20
Dhawan while applauding ISRO said, "We are proud of you team ISRO for your ultimate hard work, you have not lost, you have gotten us further. Keep the dream alive." Meanwhile giving a befitting reply to Pakistan Federal Minister of Science and Technology, Indian Wrestler Bajrang Punia said, "The destination will be found wandering. Astrayed are those, who don't even came out of the house. You must celebrate our failure. But our dream was to go to the moon, we are still above your thinking." 
https://twitter.com/BajrangPunia/status/1170232402138009600?s=20
Likewise, Rishabh Pant said in a tweet, "
There is no such thing as failure. Only upwards and onwards from here. 
We are proud of you ISRO
, we salute your hardwork and dedication in serving the nation." "We are proud of our scientists and believe that we will definitely get success in the next endeavor", said Indian Wrestler Yogeshwar Dutt. Moreover, Head Coach for Team India, Ravi Shastri said, "India is proud of its ISRO scientists who have made us a world leader in Space Science. Chandrayaan2 will inspire millions of Indian kids. Jai Hind."
Veteran Indian cricketer Virendra Sehwag said, "Khwaab Adhoora raha par Hauslein Zinda hain, Isro woh hai, jahaan mushkilein Sharminda hain . Hum Honge Kaaamyab". Likewise, Harbhajan Singh said, "Koshish karne walo ki kabhi har nahi hoti (Those who try never fails). We are very proud of you ISRO and all our scientist." Moreover, Ajinkya Rahane said in a tweet, "Salute the hard work and dedication of all the scientists at ISRO. You've inspired us and made us proud."
-PTC News