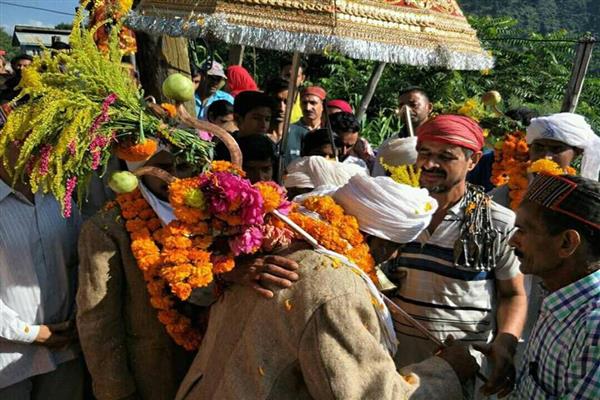 'Charri Mubarak' returns to Bhadarwah
'Charri Mubarak', the holy mace of ancient Kailash Yatra, returned Sunday to its abode here and over 9,000 devotees took a dip in icy waters of the high-altitude Kailash Kund in Doda district, officials said.
The Kund is a lake of 1.5 mile circumference with crystal clear water and it is located at a height of over 13,000 feet from the sea level.
According to the local belief, Kailash Kund was the original abode of Lord Shiva, but he gave it to Vasuki Nag and he went to live at Manmahesh in Himachal Pradesh's Bharmour.
The holy mace of serpent god started from ancient Nag temple of Gatha on September 6 and was joined enroute by about half a dozen 'charris' from different parts of the state, including Bhalessa, Basant Garh, Bani, Duddu, Billawar, Nalthi and Mathola, the officials said.
Despite the tough terrain and hostile weather conditions, the officials said 9,053 pilgrims converged at the lake to take a dip in icy water during the last three days of the annual Kailash Yatra.
After night halts at Hayan and Ramtund on September 6 and 7 during the 21 km stretch, the pilgrims accompanying the holy mace reached Kailash Kund yesterday.
They took a dip in the sacred lake and performed rituals to seek blessings of Lord Shiva and the serpent god, the officials said.
They said the pilgrims performed the rituals at Kali Nag, Hayan, Gan Thak, Gau-peera, Ramtund, Shankh Padar and finally at Kailash Kund.
The 'Charri' returned to Bhadarwah and was received by hundreds of enthusiastic followers of Lord Vasuki Nag at Vasuk Dera where priests distributed 'prasad' among the devotees, the officials said.
"It is a very encouraging sign for us that despite the extreme weather conditions, over 9,000 pilgrims converged at the sacred Kailash Kund," Bhadarwah Development Authority Chief Executive Officer Rajinder Khajuria said.
"This clearly indicates that there is ample potential to showcase this ancient yatra as symbol of pilgrimage tourism of Chenab valley,"  he said
He said this would give a boost to the efforts to promote Bhadarwah as a major pilgrim destination.
"We will try our best to improve the facilities for devotees during this tough pilgrimage," Khajuria said.
He said the district administration had arranged helicopter service on trial basis for the first time this year but inclement weather played spoilsport.
"Only three sorties could be arranged during the last three days of the yatra," he said.
The chopper service was introduced to fly pilgrims from Bhaderwah to the pilgrimage base camp at Rishi Dul near Kailash Mansarovar shrine in eight minutes for Rs 2,950.