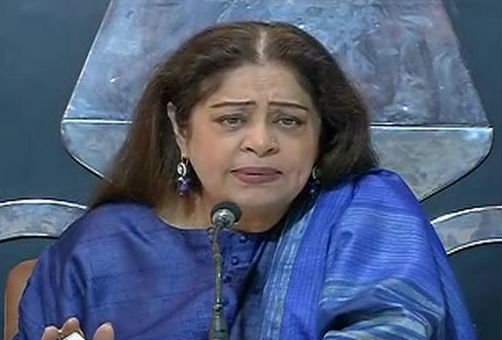 Chandigarh, Nov 30- BJP MP Kirron Kher said that her advice asking women to be cautious if they see suspicious men in an auto-rickshaw they plan to travel in was aimed at preventing crimes and she never blamed the victim in a recent case of gang rape.
"It is very unfortunate that my statement was taken completely out of context and now political colour is being given to the whole thing. As a mother and a woman, I have always spoken up for women's rights at every platform including the parliament," Kher told PTI.
She was asked to comment on the controversy that erupted after her remarks on the incident, in which a 22-year-old woman was allegedly raped by three men when she was returning home in an auto-rickshaw here on November 17.
 Yesterday, at a press conference, Kher, while referring to the gang rape incident, had said that as a general advice, young girls should be cautious if they notice some men already sitting in an auto rickshaw in a suspicious manner and should avoid boarding that vehicle.
Some reports and social media users had accused Kher of blaming the victim for the incident.
As the controversy erupted over her statement, Kher said that she strongly believe that women safety is an enduring and continuous process in the country.
"..But when I hear of incidents of assault, I feel terribly sad and angry. I only wish that our women be part of this enduring process with us, and take the little precautions that can ensure their safety in any way.
"As much as I wish their freedom came at no cost, and that we become a country with no threat of sexual violence, I will not politicise the issue of women safety, and I will not tell our girls everywhere is safe. Everywhere should be safe, but it is not - not yet. Stay safe, stay constructive," she said in a detailed statement.
Yesterday, my statement about the gang rape in Chandigarh, was taken out of context, selectively reported, and gravely politicised - all of which distracted from the real message I wanted to send out to the girls, she stated.
"So I am putting here, untampered, the things I really wished to convey. First, Chandigarh has a facility for all women who are out late in the night, and cannot find a transport. If a woman finds herself in this position, she can dial 100 and a PCR van is sent to pick her up.
"As a woman MP, I am proud that my constituency offers this reliability to our girls. I did not say it was the victim's fault that the assault happened to her, I said it is terribly sad what happened to her, and I wish she had availed the PCR facility instead of getting into an auto rickshaw with the three men," she said.
I want to mention constructive ways a tragedy like this can be avoided in the future, she said.
"Any woman, when she gets into a public transport - a cab, or a rickshaw- can just click a photo of the vehicle details and send it to her loved ones. Make sure the driver knows that your loved ones know the vehicle details.
"We cannot get into people's minds or change their intentions overnight; but this is what I used to do back in Mumbai too," she said.
This is not to say that any kind of harassment is their fault, she said adding that the alleged rapists had been caught.
Prime accused Mohd Irfan and two alleged accomplices were inside the auto rickshaw when the victim had boarded it in the rape case that shook Chandigarh. All three accused, hailed from UP and were living in Zirakpur, near here, for the past few years, were later arrested by the police.
Kher also drew attention to another statement of hers made regarding another incident of harassment a few months ago.
In that statement, I said "why is there danger at night and not during the day? They should tell boys not to go out at night", she emphasised. PTI