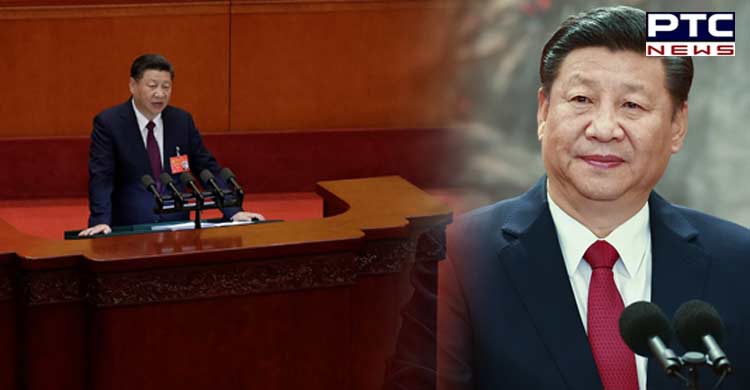 Beijing (China), June 15: Chinese President Xi Jinping faces no challenge in his way to get another term as he has spent a decade eliminating opposition and factions within the Communist Party of China (CPC) while maintaining control over armed forces, says the latest analysis by the Mercator Institute for China Studies (MERICS).

Extreme lockdowns in Shanghai, Beijing, and other cities have sparked protests and clashes, with people forced to stay at home for weeks without access to food or medicine, said the Policy Research group citing MERICS analysis. However, President Xi, who is ready to begin his third term as China's ruler, bulldozed his way through the country, reminding the people that tough measures are required to deal with the harsh realities of the day. Premier Li Keqiang, on the other hand, does not appear to share Xi's confidence that the anti-Covid strategy "will stand the test of time."
Meanwhile, Li Keqiang is scheduled to 'retire' soon, but due to the Covid-induced economic slowdown, he has been ordered to keep the economy on track without disrupting Xi's Zero-Covid policy.
According to Jacob Gunter, Senior Analyst at MERICS, this is nothing more than a firefighting operation, with the Chinese Premier being told to "put out a raging inferno without any water."
Premier Li convened a virtual meeting with over 100,000 government officials from all levels across the country to coordinate a strategy to protect the economy from collapsing, he said.
Also Read | UAE to suspend exports of Indian wheat for four months: Reports
According to POREG, 47% of CEOs expect sales in China to suffer this year, while 27% expect them to stay the same, indicating that there is no more than a tacit vote of no confidence in Beijing's ability to emerge from the crisis this year. It shows that President Xi Jinping's "zero-Covid" policy isn't going anywhere any time soon. Even as the Communist Party of China (CPC) prepares for its 20th Party Congress in the fall, no shifts away from "Zero-Covid" or established economic measures are visible.
To maintain stability in the face of a more turbulent and unpredictable international situation, China has undertaken domestically pre-emptive preparations in case it, like Russia, becomes the target of economic sanctions. China conducted an experiment three months earlier, in March, to examine how its agencies would react to such moves by the West.
On the international stage, China has reaffirmed its anti-Western alliance with Russia, and there are no signs that this will change. For example, China and Russia conducted an annual joint air-force drill over the East China Sea earlier than usual, while President Biden met with the other Quad-format leaders in Tokyo.
According to the report, China has boosted its efforts to rally states in a push for greater multi-polarity channelled through loosely defined formats like the Global Development Initiative, the new Global Security Initiative, or an expanded BRICS grouping.
As a counter to the US's Indo-Pacific Economic Framework for Prosperity, China's Foreign Minister Wang Yi recently toured eight South Pacific island nations, though he was unable to persuade them to endorse a "Common Development Vision" that included security cooperation, similar to the controversial deal China has with the Solomon Islands.
Also Read | Candidate for Presidential polls cannot be elected without Congress: Mallikarjun Kharge
-PTC News