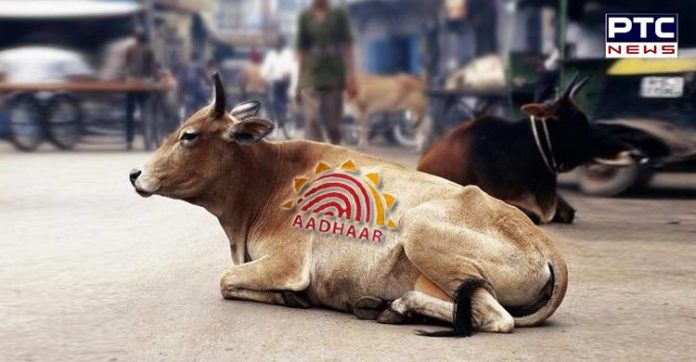 Civic Body To Use Aadhaar to Deal with Stray Cattle
In order to tackle the menace of stray cattle, mostly cows, roaming on the city streets, the Surat Municipal Corporation (SMC) has developed a system of ear-tagging of such animals and linking it with the Aadhaar number of their owners.
Each ear tag would carry a unique Cattle Registration Number. This CRN would be linked with Aadhaar number of the cattle owner. It would help the SMC to identify trace and penalise the owners for letting their cattle wander on the streets and cause inconvenience to people and traffic.
The civic body has so far pinned plastic tags with serial numbers to the ears of around 25,000 stray animals across the city and linked them with the Aadhaar numbers of around 1,500 cattle owners, market superintendent of SMC, Praful Mehta, said.
"We have created a computerised database of around 25,000 such stray animals belonging to around 1,500 people.The CRN is linked with the Aadhaar number of the owners. Since the city limits have expanded, this nuisance has grown. I think we are yet to register another 25,000 such stray cattle," Praful Mehta said.
He said that using the number tagged on the ears of the bovines, the civic authorities can trace their owners easily, as the latter's phone number and address are registered in the database.
Praful Mehta further said, "Cattle owners do not come to us voluntarily to get their animals ear-tagged. Therefore, whenever we catch a stray animal, we ear-tag it and give a CRN. Then, when the owner comes to collect his cattle, we register his details and link it with the CRN. If he does not have Aadhaar, we use other documents, such as the driving licence. When the same tagged animal is caught again, we can trace the owner. Since the owners usually do not reveal the exact number of the cattle they own, we can trace his location using the database find out the exact number of animals in his possession. We then compel him to ear tag all those animals before releasing the impounded ones."
Presently, the corporation impounds an average of 70 stray cattle each day from different parts of the city.
Also Read: Enforce ban on cosmetic surgeries on dogs: PETA to veterinary bodies
The SMC would imposes a fine of Rs 1,800 for the first day – Rs 200 for the ear tagging of each impounded bovine, Rs 1,000 towards cattle impound fee (one time charge), and Rs 650 each day towards administrative and maintenance charges, the official said.
-PTC NEWS