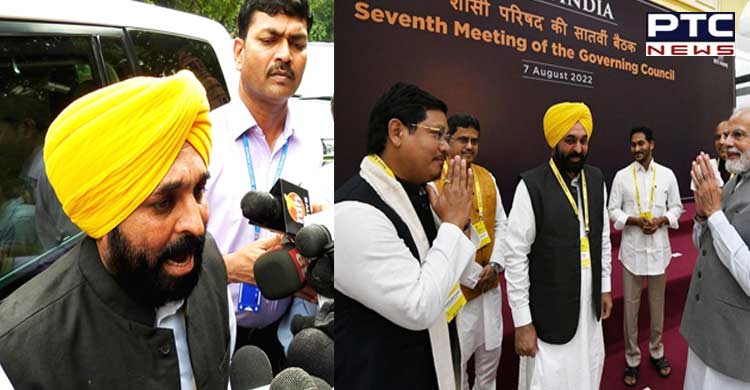 New Delhi, August 7: Punjab Chief Minister Bhagwant Mann on Sunday attended the seventh NITI Aayog meeting in the national capital and said he was "satisfied" that all state-related issues were discussed at the meeting.

Notably, this was Bhagwant Mann's first NITI Aayog meeting after he was elected Punjab's Chief Minister.
"Today was the seventh meeting of NITI Aayog, and it was my first since taking office as chief minister. It's unfortunate that no one from Punjab has attended the meeting in the past three years. I went with a full homework today, keeping Punjab's problems in mind, the biggest of which is the variety of crops," Punjab CM Bhagwant Mann said after the meeting.
"Wheat and rice have us wrapped up. Our water levels have dropped to a risky level... We demand MSP for farmers and a reformed committee as there are no stakeholders in it," Bhagwant Mann said, adding, "I'm happy with the meeting, all issues were discussed."
Also Read | Rail traffic disrupted as goods train derails on Delhi-Rohtak railway line near Haryana
According to sources, the Punjab Chief Minister raised several Punjab-related issues at the meeting, including a legal guarantee to the minimum support price (MSP) for crops, water problems and farm debt.
Earlier on Sunday, Bhagwant Mann slammed former CMs Charanjit Singh Channi and Amarinder Singh for not attending such meetings.
The meeting was chaired by Prime Minister Narendra Modi.
"It was a fruitful interaction where the CMs & LGs presented the best practices from their states. There were presentations on NEP 2020, G20, and the importance of exports," NITI Aayog CEO Parameswaran Iyer said after the meeting.
Also Read | Delhi: NIA arrests man with ISIS links from Batla House
-PTC News