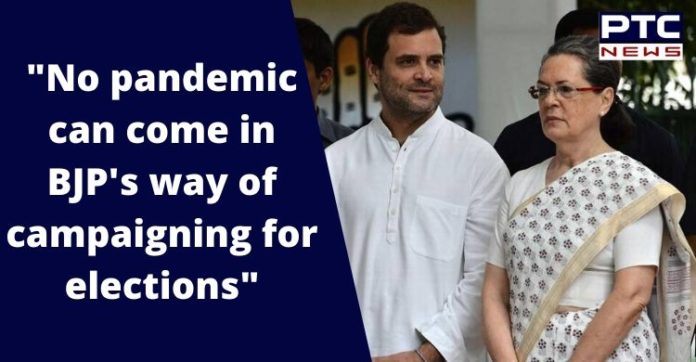 Congress on Sunday slammed the central government on its failure amid the fight against coronavirus pandemic. Congress took to Twitter and said that Rahul Gandhi was the first one to alert the government.

"Rahul Gandhi was the first one to alert the Govt. Since the beginning, Congress has been providing suggestions and expert opinions to the Government but it's BJP's arrogance that they refuse to act on them. BJP should stop blaming others for its failures," Congress said in a tweet.

Meanwhile, Bharatiya Janata Party announced that the Home Minister Amit Shah would be addressing the party workers through a virtual rally on Sunday. Slamming BJP on this, the Congress stated that "As India becomes the fifth worst affected country from COVID, BJP's priorities are very clear. No pandemic can come in their way of campaigning for elections."

On Saturday, Congress leader Rahul Gandhi shared a graph comparing India with other countries over the lockdown strategy to combat coronavirus. While sharing the graph, Rahul Gandhi said that "this is what a failed lockdown looks like."

Also Read | India reports highest single-day spike of 9971 new COVID-19 cases
Likewise, he had earlier said that India is the only country where the cases of coronavirus is rising and it is removing the lockdown. "The aim and purpose of the lockdown have failed. India is facing the result of a failed lockdown," he said while slamming the central government.
-PTC News