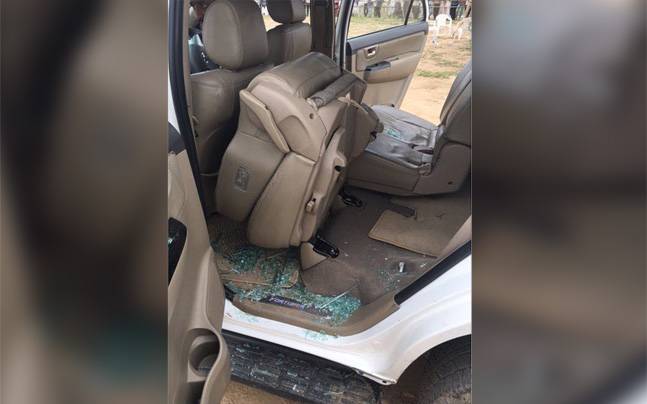 Mob attack Congress Vice-President Rahul Gandhi's car on his visit to flood-hit Dhanera town in Gujerat's Banaskantha district on Friday.  The crowd shouted slogans in favor of Prime Minister Narendra Modi and bombarded the car with stones.
The scion of Gandhi-Nehru family arrived here on Friday for a day-long visit to flood-affected regions of north Gujarat. He reached Dhanera straight from the flodd-affected Rajasthan areas and spoke to people from Manotra village and areas around.  Later, he reached Lal Chowk where he was disgraced with black fags shown by the protesters and the windows of his car were left broken during the same.
As per sources, Vice- President Rahul Gandhi is safe.
The police lathi-charged people and took situation under control. Rahul Gandhi then left from the scene, cancelling his meetings thereon.
Gandhi was here to take a tour of Banaskantha and Patan districts, which are the worst affected regions by floods in the last 70 years.
Due to heavy rain last month in the North Gujarat and Rajasthan over 270 people are reported to have lost their lives, with 4.5 lakh people directly affected by floods. As many as 61 people died in Banaskantha, while Patan recorded deaths of seven people due to heavy rains and flood water due to rains in upstream Rajasthan.
—PTC News