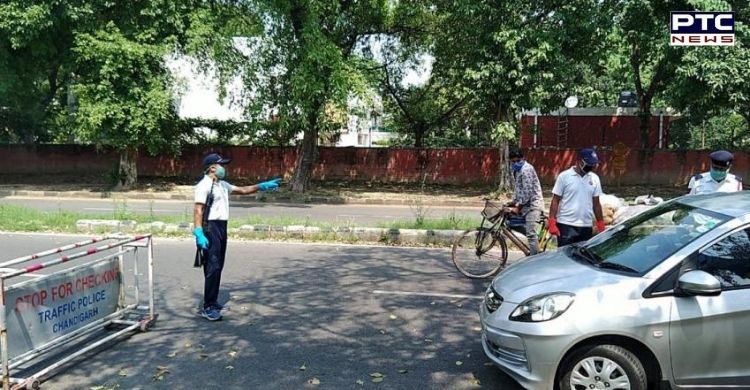 The total number of coronavirus cases in Chandigarh has increased to 3,376 after 167 new cases of COVID-19 were reported from the Union Territory on Wednesday evening.

As per the media bulletin issued by the Health Department, Chandigarh reported one new death due to the contagion disease taking the toll to 41.

A 73-year-old male, who was a resident of Ramdarbar, was a case of chronic obstructive pulmonary disease, acute kidney injury with hyperkalemic type 1 Respiratory failure with septic shock. He had tested positive for coronavirus on August 25 while he expired at GMCH-32 on August 26.
COVID-19 POSITIVE CASES :- (RT-PCR)
Sr. No.
Age
Gender
R/o
1.        
57
F
Sector 2
2.        
53
 F
Sector 8
3.        
71
M
Sector 12
4.        
32
M
Sector 15
5.        
26
F
Sector 15
6.        
32
M
Sector 15
7.        
60
M
Sector 16
8.        
30
 F
Sector 19
9.        
42
M
Sector 20
10.     
38
M
Sector 20
11.     
27
M
Sector 21
12.     
36
M
Sector 22
13.     
51
F
Sector 22
14.     
20
M
Sector 23
15.     
30
M
Sector 23
16.     
42
M
Sector 25
17.     
34
M
Sector 27

18.     
57
M
19.     
55
F
Sector 27
20.     
54
 F
Sector 28

21.     
18
 M
22.     
27
 M
Sector 28
23.     
30
M
Sector 28
24.     
30
M
Sector 32

25.     
21
M
26.     
30
M
Sector 32
27.     
27
M
Sector 35

28.     
51
F
29.     
24
M
30.     
19
F
Sector 35
31.     
55
M
Sector 35
32.     
56
 F
Sector 36
33.     
33
F
Sector 37
34.     
40
M
Sector 38
35.     
45
F
Sector 39
36.     
23
M
Sector 39
37.     
54
M
Sector 39

38.     
52
F
39.     
31
M
Sector 39
40.     
51
M
Sector 40
41.     
40
M
Sector 40
42.     
24
F
Sector 40
43.     
44
M
Sector 41
44.     
29
M
Sector 42
45.     
58
M
Sector 44
46.     
76
M
Sector 45
47.     
23
F
Sector 45
48.     
33
M
Sector 46
49.     
35
M
Sector 47
50.     
31
M
Sector 49
51.     
30
F
Sector 49
52.     
62
 M
Sector 50
53.     
37
F
Sector 51

54.     
37
M
55.     
21
M
Sector 52
56.     
43
M
Sector 63
57.     
28
F
BAPU DHAM
58.     
26
M
BEHLANA

59.     
39
M
60.     
15
M
BURAIL

61.     
40
F
62.     
35
F
63.     
21
M
64.     
46
F
65.     
26
F
BURAIL

66.     
53
F
67.     
63
F
BURAIL
68.     
57
F
BURAIL
69.     
18
M
BURAIL

70.     
17
F
71.     
42
M
DADU MAJRA
72.     
34
M
DARIA
73.     
38
 M
DHANAS
74.     
28
M
DHANAS
75.     
41
F
HALLO MAJRA
76.     
19
F
HALLO MAJRA
77.     
28
M
KAIMB WALA
78.     
32
M
KAJHERI

79.     
17
F
80.     
32
F
KHUDA ALISHER
81.     
32
M
KHUDA LAHORA
82.     
35
F
MALOYA
83.     
22
F
MALOYA
84.     
25
M
MALOYA
85.     
33
M
MANI MAJRA
86.     
38
M
MANI MAJRA
87.     
24
M
MANI MAJRA
88.     
41
M
MANI MAJRA

89.     
36
F
90.     
47
M
MANI MAJRA
91.     
18
M
MANI MAJRA
92.     
23
F
MAULI JAGRAN
93.     
27
M
PGI CAMPUS
94.     
26
M
PGI CAMPUS
95.     
43
M
RAIPUR KHURD
96.     
45
M
RAM DARBAR
97.     
73
M
RAM DARBAR
98.     
25
M
SARANGPUR
99.     
44
M
Sector 20

100. 
40
F
101. 
64
M
Sector 16
102. 
26
M
KHUDA ALISHER
103. 
34
M
Sector 23
104. 
35
M
Sector 38
105. 
39
M
RAM DARBAR
106. 
40
F
Sector 8

107. 
 44
M
108. 
62
F
Sector 33
109. 
26
F
Sector 19
110. 
41
M
Sector 35
111. 
50
F
Sector 20

112. 
52
M
113. 
24
M
MANI MAJRA
114. 
33
M
Sector 20
115. 
63
F
Sector 39
116. 
37
M
Sector 35
117. 
7
M
Sector 39

118. 
37
M
119. 
34
F
120. 
55
M
MANI MAJRA
121. 
38
M
Sector 39
122. 
43
M
Sector 21
123. 
42
F
MANI MAJRA
124. 
41
F
Sector 42

125. 
49
M
126. 
33
M
Sector 42
127. 
41
F
Sector 44
COVID-19 POSITIVE CASES:- (Rapid-Antigen)
| | | | |
| --- | --- | --- | --- |
| Sr. No. | Age | Gender | R/o |
| 128.  | 20 |  M | Sector 15 |
| 129.  | 57 |  F | Sector 28 |
| 130.  | 34 |  M | KAJHERI |
| 131.  | 52 |  M | Sector 38 WEST |
| 132.  | 53 |  M | Sector 44 |
| 133.  | 39 |  F | Sector 15 |
| 134.  | 31 |  F | Sector 29 |
| 135.  | 29 |  F | BEHLANA |
| 136.  | 36 |  F | Sector 27 |
| 137.  | 9 |  F | BEHLANA |
| 138.  | 50 |  M | MAULI PIND |
| 139.  | 17 |  F | MAULI PIND |
| 140.  | 12 |  M | BEHLANA |
| 141.  | 6 |  M | DARIA |
| 142.  | 42 |  F | DARIA |
| 143.  | 45 |  F | MAULI JAGRAN |
| 144.  | 32 |  F | BEHLANA |
| 145.  | 5 |  M | BEHLANA |
| 146.  | 43 |  F | DHANAS |
| 147.  | 3 |  M | Sector 29 |
| 148.  | 32 |  F | Sector 29 |
| 149.  | 50 |  F | Sector 29 |
| 150.  | 28 |  M | Sector 29 |
| 151.  | 19 |  M | Sector 28 |
| 152.  | 34 |  F | BEHLANA |
| 153.  | 35 |  F | Sector 22 |
| 154.  | 24 |  M | Sector 29 |
| 155.  | 9 |  M | Sector 22 |
| 156.  | 3 |  F | Sector 22 |
| 157.  | 36 |  M | Sector 22 |
| 158.  | 50 |  M | Sector 37 |
| 159.  | 30 |  F | RAIPUR KALAN |
| 160.  | 34 |  M | DHANAS |
| 161.  | 23 |  F | Sector 25 |
| 162.  | 57 |  F | 38 WEST |
| 163.  | 56 |  M | 38 WEST |
| 164.  | 30 |  F | Sector 25 |
| 165.  | 8 |  M | Sector 25 |
| 166.  | 50 |  F | Sector 25 |
| 167.  | 56 |  M | DHANAS |
-PTC News