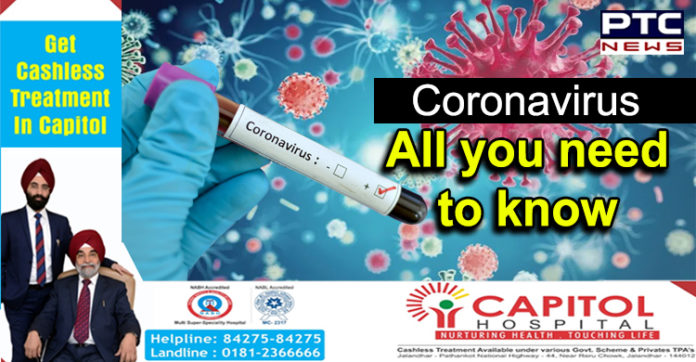 Precautionary methods suggested by Dr C S PRUTHI
Coronavirus: The death toll from the deadly coronavirus has risen to 1,383 till Thursday. The World Health Organization has warned the infected people who have not travelled to China that they could be the spark for a "bigger fire". More than 44000 have been infected by the virus across the globe.

What is Coronavirus?
The coronavirus is a family of viruses that can cause a range of illnesses in humans including common cold and more severe forms like Severe acute respiratory syndrome
(SARS) and Middle East respiratory syndrome (MERS) which are life-threatening. The virus is named after its shape which takes the form of a crown with protrusions around it and hence it is known as coronavirus.
What are its symptoms?
At a moment, the health authorities are unable to predict how severe the illness will be for each individual patient. Some patients have no visible symptoms at all or display mild ones, others fall severely ill and die.

Reported symptoms for the coronavirus include:
Shortness of breath
Severe Body ache
Runny Nose
Sore Throat
Fever
Cough
Coronavirus: 402 people kept at ITBP facility in Delhi test negative
Below are some precautionary methods suggested by Dr C S PRUTHI M.D. Capitol Hopsital, Jalandhar.
Avoid contact with live animals
Do not consume raw or uncooked meats
Avoid crowded places and contact with people who are unwell
Observe good personal hygiene
Frequently wash your hands with soap, water and alcohol based sanitizer
Wear a mask if you have respiratory symptoms (sneezing, coughing, or shortness of breath)
Cover your mouth and nose with a tissue when you sneeze and dispose of the tissue immediately
Consult a doctor if you are feeling unwell
-PTC News