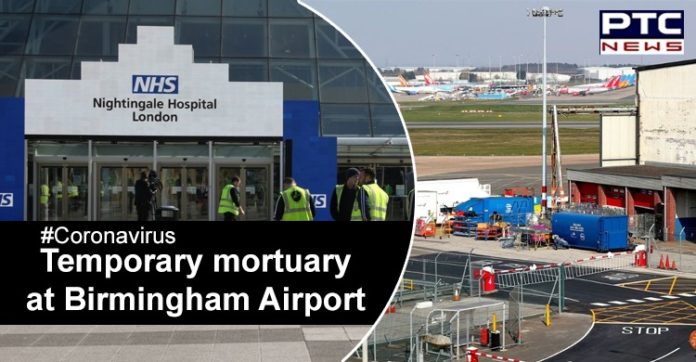 In the wake of coronavirus outbreak, a temporary mortuary site is being built at Birmingham Airport in a preparation for an expected rise in the coronavirus deaths. The mortuary will be able to hold up to 12,000 bodies. Initially, the site will be able to accommodate 1,500 deaths before expanding to hold up to 12,000 bodies in the worst scenario.

Meanwhile, the NHS chief executive Sir Simon Stevens confirmed that Birmingham's National Exhibition Centre and Manchester's Central Convention Centre are set to be converted into temporary hospitals.

As per the report, it has been expected that the temporary site could accommodate all deaths across the West Midlands, including those not related to the coronavirus pandemic, as regional mortuaries may close due to staffing the new facility.
Meanwhile, the 598,032 cases have been reported across the world so far out of which 133,391 patients have been recovered. Reportedly, 27,371 have been reported from across the world.
UK PM Boris Johnson tests positive for coronavirus
United Kingdom PM Boris Johnson on Friday stated that he has been tested positive for the novel coronavirus. He took to Twitter and wrote: "Over the last 24 hours I have developed mild symptoms and tested positive for coronavirus. I am now self-isolating, but I will continue to lead the government's response via video-conference as we fight this virus. Together we will beat this."
-PTC News