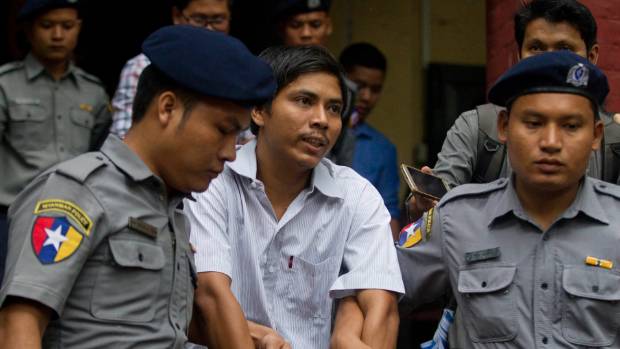 Court sentences 2 Reuters journalists to 7 years' imprisonment
A Myanmar Court on Monday found two Reuters journalists guilty of breaching a law on state secrets and sentenced them to seven years in prison.
Yangon northern district judge Ye Lwin said Wa Lone, 32, and Kyaw Soe Oo, 28, breached the colonial-era Official Secrets Act when they collected and obtained confidential documents.
"The defendants...have breached Official Secrets Act section 3.1.c, and are sentenced to seven years. The time already served by the defendants from December 12 will be taken into consideration," the judge said.
"Today is a sad day for Myanmar, Reuters journalists Wa Lone and Kyaw Soe Oo, and the press everywhere," Reuters editor in chief Stephen J Adler said in a statement.
"I have no fear," Wa Lone, one of the two journalists, said after the verdict. "I have not done anything wrong....I believe in justice, democracy and freedom."
The verdict means Wa Lone and Kyaw Soe Oo--who both have young daughters and have not seen their families outside of prison visits and court hearings for nearly nine months--remain behind bars.
-PTC News