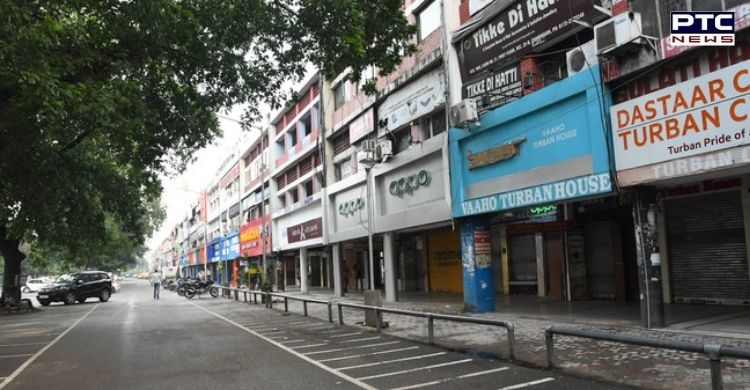 The total number of coronavirus cases in Chandigarh has increased to 3,985 after 210 new cases of COVID-19 were reported from the Union Territory on Saturday.

According to the media bulletin issued by the Health Department on Saturday evening, the death toll in the Union Territory stands at 45.

Among 45 deaths in the city, 41 were the patients with co-morbidities while 4 were without co-morbidities.
A total of 144 COVID patients in Chandigarh were declared cured and discharged in the Union Territory.
1)    COVID-19 POSITIVE CASES :- (RT-PCR)
Sr. No.
Age
Gender
R/o
1.         
47
M
SECTOR 7
2.         
28
M
SECTOR 7
3.         
56
F
4.         
21
F
SECTOR 7
5.         
42
F
6.         
14
 M
SECTOR 8
7.         
30
F
SECTOR 8
8.         
61
M
9.         
58
M
SECTOR 10
10.      
42
M
SECTOR 10
11.      
24
 M
SECTOR 11
12.      
31
M
SECTOR 14
13.      
23
M
SECTOR 15
14.      
53
F
SECTOR 15
15.      
54
F
SECTOR 15
16.      
32
M
SECTOR 15
17.      
73
M
SECTOR 18
18.      
34
M
SECTOR 19
19.      
17
M
SECTOR 19
20.      
50
F
SECTOR 20
21.      
45
F
SECTOR 20
22.      
44
 M
SECTOR 20
23.      
71
 M
SECTOR 20
24.      
27
F
SECTOR 20
25.      
60
M
SECTOR 20
26.      
34
M
SECTOR 21
27.      
43
M
SECTOR 21
28.      
62
M
SECTOR 21
29.      
85
M
SECTOR 22
30.      
60
M
SECTOR 22
31.      
32
M
SECTOR 23
32.      
61
M
33.      
32
M
SECTOR 24
34.      
36
M
SECTOR 24
35.      
24
M
SECTOR 25
36.      
25
F
SECTOR 25
37.      
70
 M
SECTOR 26
38.      
6
M
SECTOR 27
39.      
32
F
40.      
34
M
SECTOR 27
41.      
28
M
SECTOR 27
42.      
39
M
SECTOR 27
43.      
29
M
SECTOR 28
44.      
25
M
45.      
59
M
SECTOR 29

46.      
58
F
47.      
38
M
SECTOR 29
48.      
28
M
SECTOR 30
49.      
26
 M
SECTOR 30
50.      
41
M
SECTOR 31

51.      
36
F
52.      
58
M
SECTOR 32
53.      
26
F
SECTOR 32
54.      
39
M
SECTOR 32
55.      
31
M
SECTOR 32
56.      
23
 M
SECTOR 33
57.      
42
F
SECTOR 33
58.      
79
M
SECTOR 33
59.      
59
M
SECTOR 34
60.      
55
F
SECTOR 34
61.      
60
M
SECTOR 34

62.      
35
M
63.      
55
F
SECTOR 35

64.      
26
F
65.      
28
M
66.      
29
M
67.      
51
F
68.      
55
M
SECTOR 38
69.      
30
 F
SECTOR 38
70.      
51
M
SECTOR 39
71.      
47
F
SECTOR 39
72.      
68
M
SECTOR 39
73.      
53
 F
SECTOR 39
74.      
28
M
SECTOR 40
75.      
35
M
SECTOR 40
76.      
64
M
77.      
40
M
SECTOR 40
78.      
30
M
SECTOR 40
79.      
13
M
SECTOR 41

80.      
69
M
81.      
64
F
82.      
37
F
83.      
14
M
84.      
37
F
85.      
37
M
SECTOR 41
86.      
23
M
SECTOR 41

87.      
9
F
88.      
16
F
89.      
12
M
90.      
45
M
91.      
17
M
SECTOR 41

92.      
38
F
93.      
40
M
SECTOR 41
94.      
54
F
SECTOR 41
95.      
28
F
SECTOR 42
96.      
39
 F
SECTOR 42
97.      
42
F
SECTOR 42
98.      
33
M
SECTOR 42
99.      
27
M
SECTOR 42
100.   
24
F
SECTOR 43
101.   
28
F
SECTOR 43
102.   
49
F
SECTOR 43
103.   
64
F
SECTOR 43
104.   
53
F
SECTOR 44
105.   
65
F
SECTOR 44
106.   
45
M
SECTOR 45

107.   
10
F
108.   
24
M
SECTOR 45
109.   
24
M
SECTOR 45
110.   
30
M
SECTOR 45
111.   
33
M
SECTOR 45
112.   
50
F
SECTOR 46

113.   
29
M
114.   
29
F
115.   
65
F
SECTOR 46
116.   
64
M
SECTOR 46
117.   
37
F
SECTOR 46
118.   
29
M
SECTOR 47

119.   
58
M
120.   
39
F
SECTOR 47
121.   
32
F
SECTOR 48
122.   
63
F
SECTOR 48
123.   
52
F
SECTOR 49
124.   
31
 M
SECTOR 49
125.   
29
M
SECTOR 49

126.   
59
F
127.   
31
 M
SECTOR 49
128.   
50
M
SECTOR 49
129.   
13
F
SECTOR 51
130.   
46
M
SECTOR 51
131.   
28
M
SECTOR 52
132.   
40
M
SECTOR 52
133.   
 52
M
SECTOR 52
134.   
32
M
SECTOR 56

135.   
24
F
136.   
67
M
SECTOR 56
137.   
27
F
SECTOR 61
138.   
44
F
SECTOR 63
139.   
55
F
SECTOR 63

140.   
26
M
141.   
10
F
38 WEST

142.   
46
F
143.   
18
M
144.   
43
M
BAPU DHAM
145.   
16
F
BURAIL
146.   
34
M
BURAIL

147.   
34
F
148.   
22
F
BURAIL
149.   
43
F
DADU MAJRA
150.   
29
M
DARIA
151.   
25
M
DHANAS
152.   
23
M
DHANAS
153.   
 26
F
DHANAS
154.   
25
M
DHANAS
155.   
23
F
FAIDAN
156.   
24
M
HALLO MAJRA
157.   
24
M
HALLO MAJRA
158.   
23
M
HALLO MAJRA
159.   
40
F
HALLO MAJRA
160.   
20
F
HALLO MAJRA

161.   
23
M
162.   
24
M
HALLO MAJRA

163.   
23
M
164.   
28
F
HALLO MAJRA
165.   
19
M
INDL AREA PH 1

166.   
21
M
167.   
33
M
168.   
27
M
169.   
27
M
170.   
16
F
INDL AREA PH 1
171.   
49
F
KHUDA ALISHER
172.   
37
M
KHUDA ALISHER
173.   
31
M
KHUDA LAHORA
174.   
80
F
KHUDHA LAHORA
175.   
26
M
MALOYA

176.   
34
M
177.   
49
M
178.   
46
M
179.   
19
F
MALOYA
180.   
26
M
MALOYA
181.   
84
M
MALOYA
182.   
59
M
MALOYA
183.   
41
F
MALOYA

184.   
25
F
185.   
5
M
MANI MAJRA
186.   
24
M
MANI MAJRA
187.   
36
M
MANI MAJRA

188.   
57
F
189.   
32
F
190.   
89
M
MANI MAJRA

191.   
53
M
192.   
79
F
193.   
58
M
194.   
64
 F
MANI MAJRA
195.   
35
M
MANI MAJRA
196.   
58
M
MANI MAJRA
197.   
64
 M
MANI MAJRA
198.   
54
M
MANI MAJRA
199.   
25
M
MANIMAJRA
200.   
39
M
MAULI JAGRAN
201.   
25
F
MAULI JAGRAN
202.   
21
 M
MAULI JAGRAN
203.   
72
M
MAULI JAGRAN
204.   
33
F
MAULI JAGRAN
205.   
22
M
RAIPUR KHURD
206.   
41
 M
RAIPUR KHURD
207.   
25
M
RAM DARBAR
208.   
29
M
RAM DARBAR

209.   
26
M
210.   
29
F
RAM DARBAR
 -PTC News