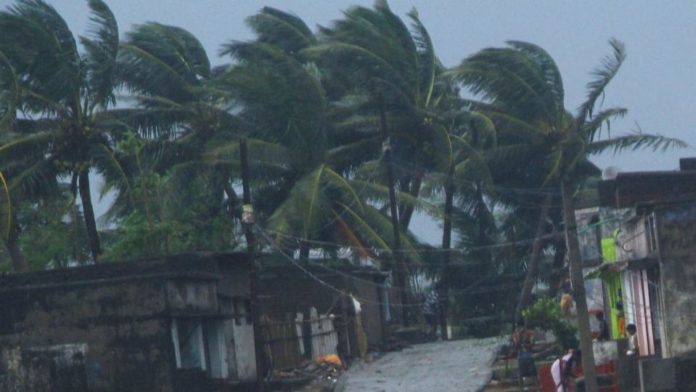 A deep depression formed over the Arabian Sea, around 760 km south-southwest of Mumbai, on Monday afternoon, which is likely to bring heavy to very heavy rain in parts of Kerala, coastal and south interior Karnataka, Konkan region, Goa and the Lakshadweep islands, a bulletin of the India Meteorological Department stated Monday.
The system will intensify into a cyclonic storm by Tuesday afternoon and a severe cyclonic storm with wind speed of up to 115 kmph in the next 24 hours, the India Meteorological Department (IMD) warned.
"The deep depression is currently away from the coast and travelling north-northwestwards. It is being closely monitored by IMD and might make landfall in Gujarat, but even if it does not, it is close enough to the landmass that the impact of cyclone will be felt along the Western coast," said Dr K Sathi Devi, a scientist at the IMD.
Under the influence of the low-pressure system, monsoon advancement will be delayed once it intensifies into a cyclonic storm, she said.
Monsoon hit Kerala on Saturday after a week-long delay.
"When such an intense low-pressure system forms, it pulls in all the moisture-bearing winds towards it, changing the course of the monsoons. Because of the changes in the wind directions, most of the rain from the southwest monsoon will be over the oceans and some areas in the western coast," Devi said.
 The cyclone is likely to be named on Tuesday as it develops into a storm.
Monsoon activity in the southern peninsula will pick up once the low-pressure system moves towards the Gujarat coast. "The cyclonic storm forming over the Arabian Sea will bring heavy rainfall to the Western coastal areas. But, it has affected the progress of monsoon, which was delayed anyway this year. By now, it should have reached Andhra Pradesh and Telangana. The monsoon rains in the interior of the peninsula should pick up after about 48 hours when the cyclonic storm moves towards Gujarat," said Mahesh Palawat, vice-president, meteorology and climate change at Skymet.