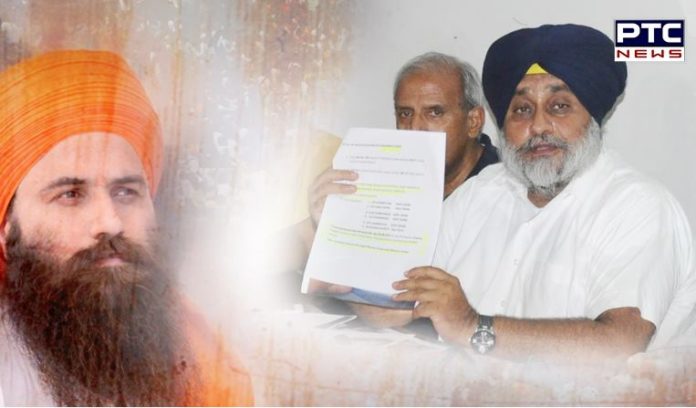 Shiromani Akali Dal President Sukhbir Singh Badal on Tuesday said that Daduwal received Rs 16.70 crore through Western Union and Money Gram from Pakistan ISI.
SAD president released details of six bank accounts held by Baljit Singh Daduwal. He said transactions amounting to Rs 16.70 crore were recorded in these accounts during the last ten year spell with money being received through Western Union and Money Gram also.
"Since Daduwal is not running an industry it proves that Pakistan ISI is funding him", he added.
He said Khaira and Ranjit Singh visited Sidhu's farm house on June 17 from early morning to evening and were joined by Congress minister Tript Rajinder Singh Bajwa. He said Tript Bajwa's role was important as the minister had also visited the dharna site in Bargari and had subsequently visited London to hold meetings with Pakistan ISI backed organization Sikhs for Justice (SFJ).
He also disclosed that a third meeting was held at Sidhu's farmhouse on July 18 which was attended by 'sarkari' Jathedar Dhian Singh Mand, radical leader Gurdeep Singh Bathinda and Ranjit Singh besides Congress minister Sukhjinder Randhawa. He said the presence of Randhawa proved the charges that he was instrumental in getting fabricated evidence recorded in the Ranjit Commission report.
Mr Badal said this was not all. The chief minister had felt it necessary to meet radical Baljit Singh Daduwal in a secret manner last night at this residence. He said though Daduwal claimed he was in Bathinda, the SAD was in possession of his entry into Chandigarh through the Banur toll plaza. Mr Badal said after the meeting Daduwal was bundled in the back of a car and whisked off to the residence of Congress minister Sukhjinder Randhawa. "Daduwal himself when confronted about the meeting said his car had gone into the CM residence but he did not go there".
Asking the Congress government whom it was trying to fool, Mr Badal also released pictures of Daduwal photographed cheek by jowl with Capt Amarinder Singh. He said it was surprising that the CM was denying ever meeting Daduwal or even recognizing his face when he was holding secret meetings with him regularly.