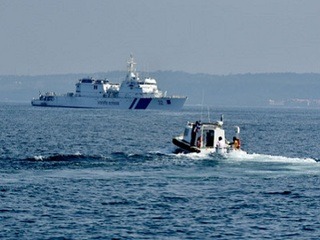 Thiruvananthapuram, Dec 7- Three bodies were recovered on Thursday off the Kerala coast, taking the death toll due to Cyclone Ockhi to 36, even as defence sources said search and rescue operations will be extended to International waters around Maldives.
Defence sources said this followed a request from some fishermen from Tamil Nadu's Kanyakumari district.
The fishermen requested the Southern Air Command here to extend the search operations to international waters to trace 72 boats with 1200 fishermen who may have drifted due to the cyclone, the sources said.
The state government approached the Centre with the request of the fishermen following which the Defence Ministry has approved sending of C-130J Hercules transport aircraft around Maldives by tomorrow morning, they said.
Those missing hail from Vallivilai, Thuthoor, Neeroodi, Puthanthurai, Poothurai and Marthandamthurai in Tamil Nadu.
Hundreds of fisherfolk staged a rail roko at Kuzhithurai station bordering Kerala, leading to Southern Railways cancelling two trains--Tiruchirapalli-Trivandrum Intercity and Kochuveli-Nagercoil passenger, besides partially cancelling five other trains.
Ninetysix fishermen are still missing from Kerala following the cyclone causing havoc to the state's coastal region, according to official estimates.
Rescue operations are going on in full swing to trace the missing fishermen.
Sources in the state control room monitoring the rescue operations, said with the recovery of three more bodies, the death toll in Kerala due to the cyclone has gone up to 36.
While a body was recovered near Alappuzha by the Marine enforcement wing, two bodies were found by Coast Guard ship Vaibhav off Alappuzha-Kochi coast this morning, defence sources said.
An Air Force aircraft AN 32, flying between Kozhikode-Kochi coasts sighted a fishing boat with about 15 fishermen this morning following which Navy sent a Dornier aircraft and ship to the area which is close to Lakshadweep islands, the sources said.
The fishermen said they only wanted food and water and that they would reach the shore on their own in the boat.
Meanwhile, shipping services from Kozhikode to Lakshadweep began today with around 60 passengers boarding the high speed vessel from Beypore this morning.
M V Minicoy, the passenger vessel, berthed at Beypore had suffered some damage in the cyclone following which MMD officials had not granted travel clearance.
Yesterday, the high speed vessel arrived at Beypore from the islands to ferry the passengers, the sources said.
Around 1,600 passengers were transported from Kochi to various islands of Lakshadweep when the shipping services resumed on December 5, according to the sources.
Shipping services from Kochi to the Union Territory were stopped from November 30 to December 2, causing immense hardship to passengers.
From Mangaluru port, M V Amini Divi, will sail for Lakshadweep with 46 passengers tomorrow, the sources added.
Due to the cyclone, 1,098 passengers had been stranded in Kochi, Kozhikode and Mangaluru ports since November 30.
Congress leader Rahul Gandhi will visit the cyclone hit areas in the city outskirts on December 14, according to Opposition leader in the state assembly Ramesh Chennithala. PTI