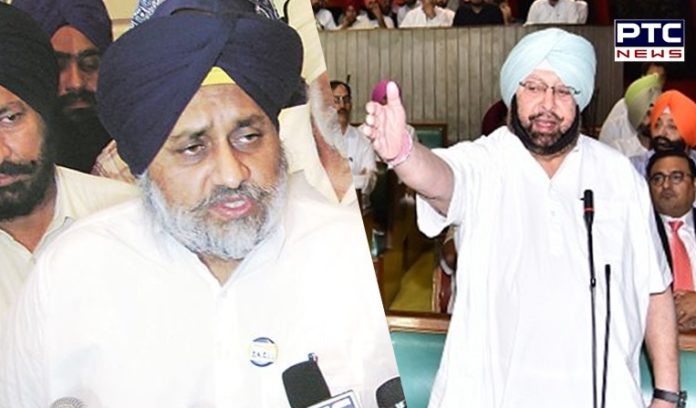 The debate between Captain Amarinder Singh and Sukhbir Badal in the Assembly
The last day of the monsoon session of Punjab Vidhan Sabha is full of fire and sparks.  There was a sharp debate between Chief Minister Capt. Amarinder Singh and SAD President Sukhbir Badal. Sukhbir Badal levelled allegations against Chief Minister Mutwajee Jathedar Baljeet Singh Daduwal on Sunday night.
The Chief Minister said baselessly that the picture which was being viral by Sukhbir Badal was in a meeting held in the Vidhan Sabha.
The captain said that the house was equipped with a CCTV camera and it can test too.
Congress and Aam Aadmi Party are conspiring to defame the erstwhile SAD-BJP government and divide the Sikh community, said Shiromani Akali Dal President Sukhbir Singh Badal as he walks out of the Punjab assembly today.
Sukhbir Singh Badal said that Captain Amarinder Singh is Anti- Punjabi and if the environment of Punjab gets disturbed, it will be because of Amarinder Singh.
-PTC NEWS