Delhi Murder Case: Major made 3,000 calls in a year to the victim
Major Nikhil Rai Handa who was arrested for killing fellow officer Major Amit Dwivedi's wife Shelja, had made 3,000 calls this year, the police said.
The Delhi Police have recovered the clothes Major Handa was wearing when he allegedly killed Shelja as well as two Swiss knives. He will be taken to Meerut to reconstruct the crime scene.
While fleeing to Meerut, Major Handa reportedly got his car washed to remove the victim's bloodstains and also threw away her cellphone.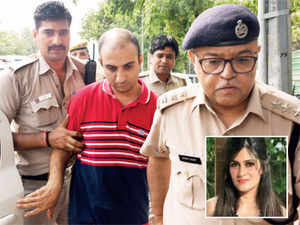 A forensic team took seven blood samples from the car which matched with Shelja's blood group. The hair samples found in the car matched too.
"Just 10 days ago, we were celebrating her return to the city as her husband moved their belongings to the cantonment area. Now, we are mourning her death," said Sukaran Kalia, her brother. He and his mother were in Shimla when they were informed of her brutal end.
"I got a call from my brother-in-law. He said Shelja had gone missing. The police told him they had found a woman's body. He identified my sister's body from a tattoo," he said.
-PTC News