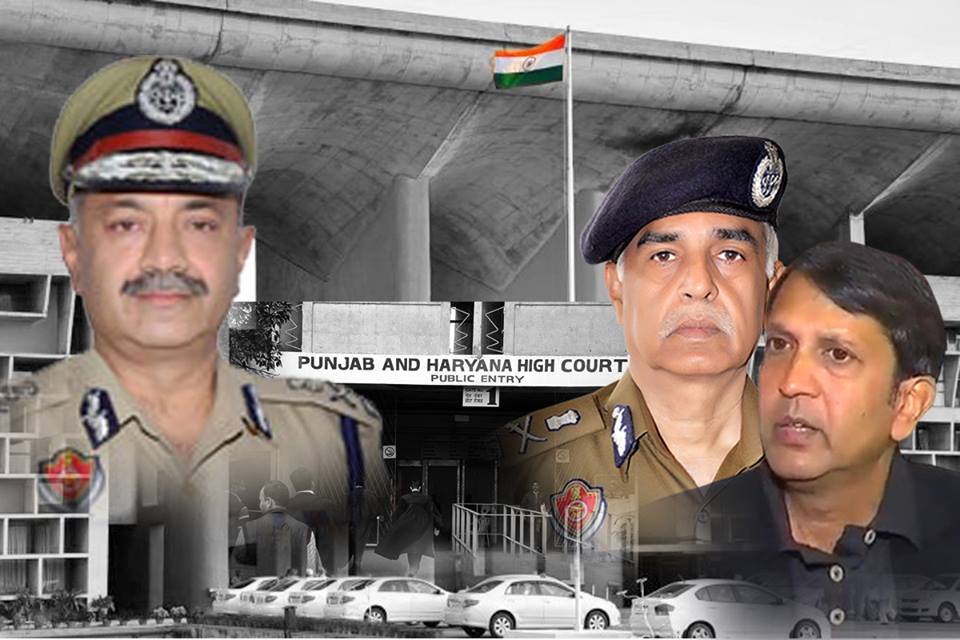 DGP V/S DGP: Law enforcers should not be law breakers
You call it a war of succession, or conflict of interests or even growing factionalism in  the top brass of  the 80,000 strong Punjab Police force that has been hawking media headlines for the past some time
Murky cold wars are nothing new to Punjab police. It may have been credited for fighting the nation's battle against terrorism yet it has generally remained mired in controversies for wrong reasons.
Individuals build institutions but interests and images of institutions cannot be compromised to suit individuals. And Punjab police appears to be caught in this conflict individuals vs institution.
The most recent controversy has been the most dangerous. It involves Director General (Human Resource Development), Siddharth Chattopadhyay, Director General Suresh Arora,  and Director General Intelligence , Dinkar Gupta.  Dissensions, which may have been there for a while, surfaced only when Chattopadhyaya moved an application in  the Punjab and Haryana High Court in  Inderjit Singh Chadha  suicide case, apprehending his  implication in the case at the instance of Suresh Arora and Dinkar Gupta.
Chattopadhyaya, heads a Special Investigation Team (SIT), that has been tasked  to look into charges against  the Moga Senior Superintendent of Police (SSP) Raj Jit Singh, for his alleged involvement in drugs racket. His immediate provocation for moving the High Court was his fear that he was being targeted as an abettor  in Inderjit Chadha suicide case as his probe us was leading to a possible nexus between Raj Jit Singh on one hand and  Arora and Gupta, on the other.
A benami property – a house - of  "a DGP" is among various  points being investigated  by Chattopadhaya.
If an officer of the rank of Director General can apprehend implication in a suicide case, it is not difficult to imagine the fate of those who have been crying hoarse over "biased" or "Politicalised" working of the force that has been constitutionally mandated to protect life and property of people besides maintaining law and order.
Drugs racket and Inderjit Chadha suicide case are not the only reasons for this "dangerous" development that has shaken the faith of common man in the State police. They are just the igniting points. The malaise lies much deeper.
No serious effort has been made in the recent past to "discipline" the police force in general and its top brass in particular. For those who have either worked in this department or followed its functioning over the past few decades admit that the split, which existed for a long time,  has surfaced  now for general public. It has come at time when only five months remain for Arora, a 1982-batch IPS officer, to retire in September. His batch mate Sumedh Saini retires on June 30.
As of today, all officers belonging from 1982 to 1987 batch hoild the rank of Director-General of Police. In case the State Government decides to promote all officers upto the 1994 batch as Additional Directors-General, the State will have 12 DGPs and 30-odd DGPs meaning thereby that almost every third IPS officer in the State would be either a DGP or ADGP.
Is this top heavy cadre a reason for the murky cold war?
Is poor cadre management has resulted in the present unsavoury crisis?
Against a normal intake of two to three officers each year, Punjab's cadre went haywire between 1993 and 1995 when it had eight officers each year. The cascading impact of this imbalance has started showing up with more and more officers aspiring for top positions. This is perhaps one reason for Punjab to be one of the top heavy cadre in the country.
Then, the State's own cadre also felt slighted when officers from other cadres were brought in to fill the top positions thus ignoring the rightful claimants.
In 2017, when Congress came to power, it decided to retain Arora, appointee of previous SAD-BJP government , as DGP  This probably  led to murmuring campaign  among those officers who were known  for their "soft heart" for Congress. Mohammed Mustafa, who belongs to 1985-batch and Chattopadhyaya of the 1986 batch may have been among those slighted. It did not end there.
Recalling Harpreet Sidhu prematurely from CRPF deputation,  appointing him as head of the special task force (STF) against drugs, aggravated the situation for those who were aspiring to succeed Arora at the first opportunity. Sidhu was chosen to report directly to the Chief Minister thus diluting the authority of the DGP. This made Sidhu another power point in the police administration. But love was lost for Sidhu sooner than expected. This brought in Chattopadhyaya into the picture and drugs investigation.
Both Arora and Gupta continue to be among good books of the Chief Minister. It needed no further corroboration than the Chief Minister asking the Home Secretary and the DGP to find a way out to end the current stalemate. The situation is fluid and volatile.
To put immediate stop to internal bickering, restoring credibility and maintaining high morale of the force, a stronger action is needed.
-Prabhjot Singh