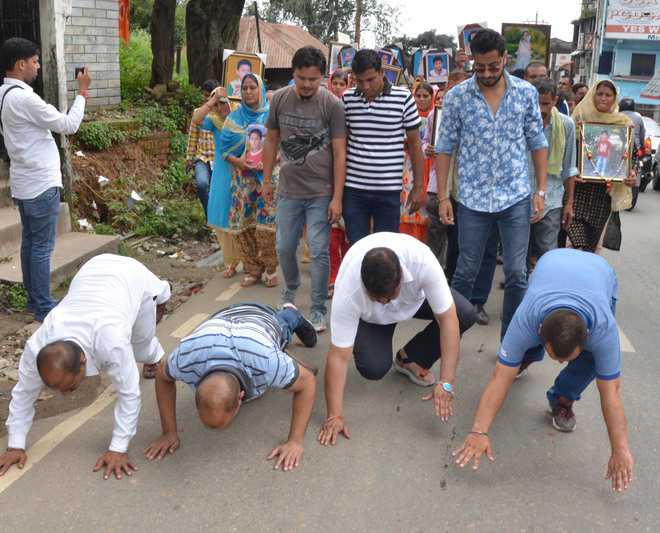 Dharamshala: Parents Crawl To Protest Against Children's Accident
Parents of children who died in the Nurpur Bus Accident in April, this year crawled to the DC's office on Wednesday. They rubbed their noses on the road in the protest outside the Mini-Secretariat to embarrass the district administration and state government.
11 parents from Bodh Village along with 15 other were carrying banners with photos of children and crawled to the DC office.
Raghunath Singh, who lost his son in the accident, said that they had been forced to adopt the method of protest as no one listens to them. They were demanding action against the PWD officials as they are responsible for not repairing the road which caused the accident.
Another parent, Balraj Singh, said that they had found laxity on part of the PWD, police, Education Department, Transport Department and the local administration.
Vikram Singh, an Army personnel, who lost his daughter said, "We found that the number on the chassis of the school bus was tampered. We have submitted photographs to the police."
Bir Singh, another parent said, "We have evidence to prove that the bus was old and its chassis number was tampered. Transport officials should be punished for passing the old bus with the tampered chassis number and year of manufacture."
Also Read: Punjab CM asks Amritsar administration to help families of 7 killed in accident
Parents said that they said they had written a letter in September 2017 to the PWD department for repairing the road, but no action was taken, which was another reason of the accident.
-PTC NEWS